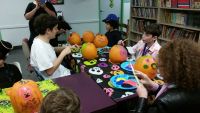 Allie Offman, Director of Admissions
As a graduate from Nursing and being a parent of children with Autism, I have spent many years working directly with children with Autism and other Learning Exceptionalities. Over the past 15 years, I have dedicated my life to teaching kids with ASD.
I opened up a not for profit, charitable organization to support families that need strategies, behaviour plans, academic support and life skill programming. We offer a School Based Program for students from grades 1 to grade 12. Our students are able to receive individualized programming to teach the fundamental skills they need to earn credits. Our older students may work towards a Diploma or they may work on Independent Life Skills. This program is geared to students that need additional support and guidance!