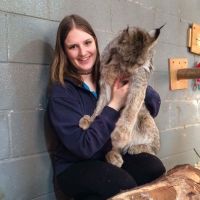 Avery Harte, Camp Director
Welcome to Zoo Camp at Hands on Exotics and congratulations on taking the first step to having a unique, educational and exciting adventure interacting with and caring for our animal friends. My name is Avery Harte and I am passionate about all animals, even the creepy crawly ones.
I have spent my life learning about Earth's creatures and it's this curiosity that has compelled me to get a degree in zoology and pursue postgraduate studies in education with an emphasis on studying the positive benefits of having animals in classrooms. I am very excited to share my passion for wildlife and learning with the Zoo Camp community.
At Zoo Camp at Hands on Exotics we nurture many exciting animals including kangaroos, owls, lemurs, a lynx, a kinkajou, sugar gliders, snakes, spiders, and more. Our program encourages confidence by empowering campers to identify, respect and interact with animals in a safe and inclusive setting. We welcome kids of all ages and experience and celebrate differences and needs. We endeavour to create a fun environment to promote enthusiastic exploration under the guidance of trained counsellors who will help your children experience the wonders of our natural world through activities designed to stimulate lifelong interest in animals and nature.
For 2017 we have assembled an amazing team of individuals from a variety of backgrounds so that we can create a dynamic camp for your kids. Please do not hesitate to contact me personally with any questions you might have about our program. We look forward to sharing our passion with you!