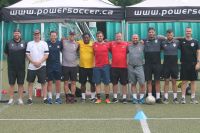 Marco Reda, Director of Coaching
Mission Statement
Our mission is to deliver top level soccer training and instruction with the objective of guiding players to attain their maximum potential in the game of soccer. We place an emphasis on skill and tactical development and the maximization of game enjoyment through a training process that emphasizes fair play, respect and enjoyment of the game. We believe in nurturing and developing the mental, physical and technical characteristics of the youth player. Our programs are presented through a dynamic and creative soccer training model. We encourage players to use their imagination and creativity while playing. Power Soccer coaches conduct an innovative skills program which provides an opportunity for total involvement for each player. At Power Soccer we focus on allowing players to express their individuality while giving them concise feedback on how they can improve their game play. Players will encounter an age and skill specific program that will foster development and result in greater enjoyment in soccer. We believe that players who are enjoying soccer and who are comfortable to make mistakes without criticism will develop best. Proper player development is a long term project which produces incredible results. At Power Soccer, players receive informative and positive feedback through detailed Players Profile reports and constant communication with individual coaches.
Smart Soccer
Integral to our teaching process is the coach's ability to capture players playing smart soccer. We give players the confidence to find their own solutions while playing the game. We stress "possession soccer" and we encourage players to think about what they do with and without the ball. Coaches give players options and instruct them in priorities of play so that they gain an understanding of the fundamental principals of the game.
'All Ball'
At Power Soccer, all training is done with the ball. We recognize that continuous contact with the ball leads to a remarkable improvement in each player's ability level. The "all ball" aproach at Power Soccer fosters skill improvement and builds player confidence. Constant training with the ball is accepted as a sound coaching principal in advanced soccer nations. Canadian players need maximum exposure to the ball; this will sharpen each player's skill level. At Power Soccer training sessions, players learn to use creative fakes and turns, shielding skills, ball tricks and moves in order to deal with pressure in the game.
Game Sense
Training sessions are designed to promote quick decision making, speed of reaction and the sharpening of the players' game sense. We endavour to create good soccer playing habits from an early age and our training combines skill exercises with lots of game play to facilitate player enjoyment.
Coaching Methodology
Enthusiastic, well organized and qualified coach
Well planned session that has a skill/tactical focus
Use of the ball throughout the session
Coach allows players to solve problems
Keep it simple, do not over coach
Fitness is achieved through the ball skills
Creative sessions that challenge players to reach their potential
Respect the player, parent, coach, official – Fair Play
Positive feedback from the coach creates a learning environment and enjoyment of the game.