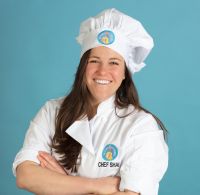 Shai Mandel, Founder and CEO
Rooks to Cooks was founded by Chef Shai Mandel, a chef and teacher. Shai has been working in kitchens her whole life, having a passion for food and cooking since childhood. While completing a Kinesiology degree at Wilfrid Laurier University, she would spend her free time working in the culinary industry, dedicated to perfecting her skills. In her 6+ years working as a chef, Shai has worked with some of the most renowned chefs in Canada, especially appreciating the friendship and guidance she received from Jonathan Goodyear, executive chef for Magna Golf Club and finalist of Top Chef Canada, Season 3. Shai has held various positions in all aspects of the industry from pastry and large quantity production, to fine dining. During her career as a chef, Shai had the opportunity to train many people in various positions. It was through this training that she discovered not only her passion for cooking, but her passion for teaching.
Shai attended teachers college at Wilfrid Laurier University, officially becoming an Ontario Certified Teacher in 2015. While working as a student teacher for the Waterloo Region School Board, Shai organized and implemented various cooking after-school programs and events, falling in love with teaching youth how to cook and bake. She held the position of Lead Instructor at Summer Chef School in Waterloo, where she developed the curriculum and lessons for the school. During this experience, she had the privilege of teaching over 320 kids of all ages the culinary arts. Since then, Shai had a vision of opening her own children's cooking school in Toronto. This dream became a reality with the birth of Rooks to Cooks.