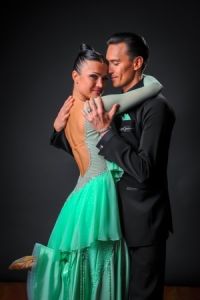 Kateryna Stytsenko & Dmitry Ilyushenov, Founders
Welcome those who love to dance, those who wish to learn and anyone who shares their passion for dancing! Group classes and private lessons are available for all ages in our dance studio toronto. We also offer competitive & recreational programs.
KATERYNA STYTSENKO
Kateryna at age 7 started her dancing classes at "Harmony" dance studio in city Dnipropetrovsk ,Ukraine.The love to dance took over everything in her life and became a dance carrier.She moved toToronto, Canada with her family and continiued competitive dance career as a Proffessional. Recently Kateryna completed her adjudicator test in Licentiate in International Dance Style of Dance with Canadian Dance Teachers Association.
She also believes that learning dancing isn't hard, but continuous steady practice is what is important.
She mastered her teaching skills by teaching for over 15 years,competitively and recreationally kids and adults with different levels. Kateryna enriched her dance skills to the highest level by competing in numerous of different Ukrainian,Russian,European ,Canadian and Canadian competitions in International Latin American and Ballroom Dance Styles. Kateryna together with Dmitry – Discovered their new passion to American Smooth Dance Style .Now they are competing in this style and recently on nov 1 2014,they won Canadian Championship.
DMITRY ILYUSHENOV
Dmitry, originally from Tomsk, Russia, was born into a family of Ballroom and Latin dance professionals, who became Siberian and Ukrainian Ballroom Champions. He started dancing at the early age of 6 and has being on the dance floor ever since.
As Dmitry says, "If you are in dancing that long, and make it your career of choice; you better really love it. It requires a lot of effort and patience, but it is totally worth it."