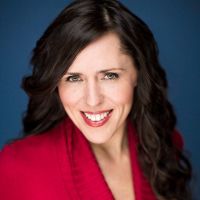 Geneviève Cholette, Artistic Director
Geneviève Cholette is a professional musical theatre performer and choreographer known all across French Ontario for her art as well as for the workshops she has given to over 5000 young artists. While enjoying a booming career in the arts in Canada and in France, she has been teaching for almost 20 years having opened her own studio when she was only 18 years old. In 2010-2011, she had the great honour to have been asked to become the official spokesperson for the FTAMS (Theatre Festival for French Ontario High Schools). Since 2006, she has launched the teen acting studio for the world renowned Cater Thor Studios, in Toronto, she continues to coach teens and children for professional film, TV and theatre auditions and has received several grants for her French Musical Theatre projects through the Ontario Arts Council. After giving workshops in dozens of French, English and French Immersion schools in Ontario and Quebec, teaching Drama and Musical Theatre at the Toronto French School for the past two years, she has been asked to teach her Musical Theatre workshops by the Ministry of Education for the ''Moniteurs de langue''.
Geneviève believes that artists can change the world and is dedicated to helping every artist on her path (young and old) find their true voice through their passion for the arts.