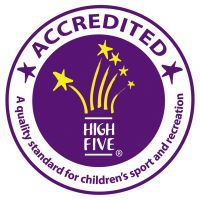 Town of Oakville, Camps Leadership Team
Enjoy an exciting and fun-filled summer in your own neighbourhood!
Families know how important an active and rewarding summer is for their kids. That's why so many choose to spend it at Town of Oakville camps. Geared to children aged four to 14, the Town of Oakville is a great choice for exciting and affordable summer camps. Our HIGH FIVE® trained staff, high safety standards, and engaging, value-driven summer programming set us apart. We aim to provide the highest quality summer experience for our campers and their families.
It's our mission to help build the self-esteem and self-worth of every child through our every action. Each child possesses the innate ability to learn and succeed, and our goal is to lead children towards a happy, healthy and responsible lifestyle. While succeeding in building physical skills is important, teaching children to learn and love themselves are some of life's greatest lessons. We look forward to spending our summer with you and your family!