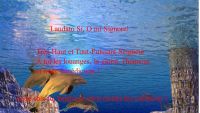 Sr Félicité Daou, President
Éduquer, "c'est aimer et espérer". Tel est le thème qui a inspiré notre mission éducative de l'Académie Providence établie à Ottawa depuis 2002.  
The teaching program of the Providence Academy meets the requirements of the Ministry of Education of Ontario, integrates the teaching program of the Ministry of Education of France and incorporates the educative philosophy of the Antonine Sisters (personalize and whole group) together with montessorien principles in a structures and inter cultural environment. The pedagogical approach respects the pace and learning style of each student to procure the development of the autonomy and self-esteem of each student. The Providence Academy is the only Catholic Private French School that offers such a program in Ontario.
Instituer un établissement d'enseignement privé, dans une société très attentive aux réalités culturelles et respectueuse de la liberté de croyance inhérente à la dignité humaine mais où l'enseignement est rendu presque totalement public, est un grand défi à relever. Aujourd'hui, à sa douzième année de fonctionnement, l'Académie Providence, avec un sentiment d'action de grâce, de fierté et d'humilité, peut se considérer en tant qu'établissement d'enseignement et d'éducation de qualité au service des jeunes qui ont besoin de recevoir, à côté d'une formation académique solide, les bases spirituelles, morales et culturelles qui feront d'eux des « témoins de l'Évangile » et qui répondent aux attentes pédagogiques de leurs parents. L'Académie Providence soucieuse de favoriser le plein épanouissement de la personnalité de ses élèves, veille également à faire d'eux/d'elles, des citoyens et des citoyennes responsables, conscients(es) de leur rôle communautaire et sensibles à la compréhension interculturelle et internationale.
Puisse la Divine Providence, source d'amour et d'espérance, veiller sur cette mission et la mener à son plein développement au service de la communauté d'Ottawa.