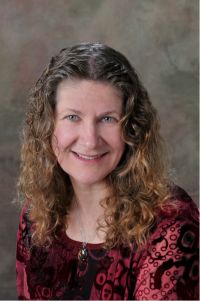 Diane Swiatek, Director
Director's Message:
Ah! This was a very satisfying year! We turned 35! It is a glorious feeling, to know that Banbury has been available for children and youth for all of this time. As in previous years, our peaceful, collaborative and stimulating environment has enabled our students to devote themselves to learning, without fear and with joy. We have done a lot of things in 35 years, and this year, we discovered even more! The students made pictures out of pebbles, created a time line of Alberta history that went down the hallway, painted a flower portal to the Art Room, published an alphabet book with Plasticene pictures about Banbury that was presented to me after the Gala, created some new forms of Elementary projects, did amazing art with Cristina and Ann in multiple media and original styles, and gained skill in a variety of languages—Russian, Spanish, French and Japanese. One of our secondary students, Haley Mather, participated in the SEEDS Connections Program, which involved online work, an on-site camp and then the creation of her project, a website, www.lets-listen.org, intended to help people to make connections around the world, in order to better understand each other. She also won Third Place in the Optimist Club of Calgary's Essay Contest. Parts 2 and 3 of the secondary play, The Alliance, were presented at Christmas and at the Awards Ceremony. The White Wave Dance Troupe, composed of students across the age spectrum, and directed by Genevieve Bradford, performed at Christmas and at the Anniversary Gala. Dr. David Helfand, President of Quest University, spoke to us about the Universe. We have been busy.
This year, our students dove deeply into their projects, and pursued answers to their own intrinsic questions through their studies. They explored their environment kinesthetically outside of the school. For instance, the secondary students went to Camp Chief Hector in the Kananaskis, and enjoyed that experience immensely! Inside our school walls, our atmosphere was observed by many visitors and community members to be peaceful, inspiring and comfortable. Although we had the disruption of losing four teachers, for a variety of reasons, the rest of us carried on together to make our usual genuine and caring social connections. Some of these connections were with new, bright and fresh teachers, who cheered us up! We needed to be resilient, because caring social connections are really important for students' academic growth. Our teachers are here to give long-term mentorship, and to help students feel capable and visible. This visibility is a distinct advantage for intellectual pursuits, because learning is a complicated and interrelated process for young people, and they benefit from guidance. They must become able to set goals, manage priorities, obtain resources, identify topics of special interest, explore their environment, focus, monitor their pace and evaluate results. This process is made much easier, simply because caring adults at Banbury are by their side throughout that long and convoluted process.
We had a great group of students this year! They were pleasant, and had supportive attitudes towards each other. They engaged in helpful, win-win problem solving and spontaneous peer instruction. They collaborated on project design and production. They were even better than the typical students we have had across the years. At our 35th Anniversary Gala, I had prepared a slide production of about 4,500 photos. These images flashing upon the screen made clear one of the most valuable aspects of Banbury—the element of joy. Children have been happy, here! People commented on that at the event. This is no small feat! In our intimate setting, children may be themselves, become self-aware and self-responsible, express themselves through creative means, and, in general, find their voices. When children have a voice, they do not need to yell. They speak with respect and confidence. They care about each other. Happiness within individuals makes it possible to have social cohesion, and to find pleasure in living. This method of schooling has wonderful side effects, and I am so proud to be part of its flowering in the world.
I am deeply grateful to all of the people, over all of these years, who have contributed to the growth of Banbury's vision. It is a very congruent vision in every way. Everything fits together seamlessly—our approach to communication, our way of dealing with children, the connections created between the real world and their studies, and the collaboration between teachers and parents for the benefit of our children. The photographs show that, no matter who the teachers, or students, or parents were in any given year, the basic vision shines through. It is almost as though Banbury now has a life of its own! It is definitely bigger than any one of us. We are onto something marvelous!
I appreciate, with every fibre of my being, the teachers who have grown with me over these years, especially Karen Harrison, who has been with us for 24 years! This is devotion and strength and intelligent problem solving at its peak. Karen is so fundamentally my right-hand person, and I am eternally grateful for her companionship over our working lives. Anne Bransby-Williams, who was first my friend, then our Pre-School teacher, and now our Office Administrator, has a center-of-the-heart place at Banbury, not just for me, but for all of us. Cristina Atanasiu is another long-time teacher and Renaissance woman, who has helped us grow in three locations. The historical understanding that is gained over many years is very important, because Banbury is, truly, built upon itself year after year. Who we are now is a direct result of who we have ever been. Doan Tran, Ann McKean, and Tara Fry are other devoted teachers who are knowledgeable about how Banbury works and efficient in bringing it to life. We have all seen so much, and know the core of Banbury that persists over time. We have learned different things each year. We have helped each other unselfishly. We have given mutual support, time and kindness to each other. I have needed that support. I have needed to know that I could trust that the teachers here would create this educational world that I envisioned. I could never have gotten this far without all of these people sharing this vision and working hard together to make it happen. Then, I want to acknowledge our newer teachers, because I appreciate so much their energy and enthusiasm and willingness to join in this venture. We are a very special group, and I am so thankful.
The parents, too, have been crucial to the success of our programs, as they have been so supportive of their children, who are the crux of this whole endeavour. Parents have always been important to me, right from the beginning in 1979, when I was still experimenting, and did not incorporate other teachers into the fledgling endeavour. In those early days, I derived emotional and intellectual sustenance from parents, who provided feedback and planning ideas, resources and companionship. Afterwards, when the school grew and teachers joined me, parents continued in their central role. We needed them, and they needed us. This year, parents were obvious contributors in a variety of ways. Steve McIlvenna and his wife, Prudence Hoffman, provided administrative insight. Parents and grandparents contributed donations to our Banbury Crossroads School Society. Jacquie Barnes, who was the lead Event Planner for the 35th Anniversary, is a former parent herself, and she was assisted greatly by many parents who rallied to organize many aspects of the Gala itself, as well as the Silent and Live Auction. I am humbly grateful for their creativity and energy and care. Pamela Mclean, a former parent and current Director of the Society, spoke at the Gala, to let parents know that they need to value the School, and lobby the new NDP government to support Banbury as a Private School, since it performs a useful, visionary educational role model in our culture. Bravo to all of these parents and family members!
Lastly, I want to mention our alumni, which is a group that is growing each year. At the 35th Anniversary Gala, alumni spoke at the podium for the first time in a formal way about how Banbury affected their lives. These alumni were Anne Mclean, Iain Richardson, Delaney Boyd, Dave Crosby, Thomas Kaune, Sarah Jorba, and my son, Liam Cummings. I am so proud of each one of them! I have such fond memories of each one of them; they are part of my life and my heart, too. It is clear to see that the alumni are the true products of this school. It is clear that they are people with initiative and passion and humility. They care about issues that go far beyond their self-interest. They are constructive communicators, effective presenters of ideas, and reasonable critical thinkers. They have moral values and solid characters. They are strong. I knew it would happen, and I have been watching during all these years as it happened, and I am beyond delighted that these individuals, each in their own way, will influence the world they inhabit for its betterment.
I am so proud of this School and grateful for everyone who has given their heart to this endeavour. I have learned so much. I guess that is not surprising…I have been in school all of my life!! I was bored in school when I was a child, but I have never been bored at Banbury!
By Diane Swiatek
June 19th, 2015