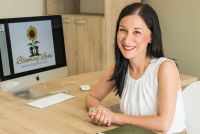 Ms. Leyla Ansary, Principal
"Nurturing Confident, Competent, Compassionate Leaders of Tomorrow".
Welcome to Blooming Lives Montessori,
As a former Montessori student, I firmly believe that Montessori is not just a philosophy taught in school, but it becomes a way of life. At Blooming Lives Montessori, the children are free to choose and explore by pursuing what drives them. Our trained teachers will support every child in reaching their full potential academically, socially and emotionally on an individual basis, preparing them for lifelong learning.
For the past 15 years I have had the pleasure of working in the Education field, which is where my passion has been and will always remain. Blooming Lives Montessori is founded on the principles of creating strong relationships with families, through open communication, and striving to meet the needs of each child. Adhering to these principles enable us to provide a positive, nurturing educational experience for the children.
As the Principal of Blooming Lives Montessori I welcome you to our family.
Sincerely,
Leyla Ansary