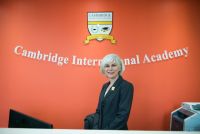 Lin Lin, Director
It is my pleasure to welcome you to Cambridge International Academy. Our primary objective is to assure your child experiences a positive, productive, and safe school environment in which he/she will self-actualize and grow academically, emotionally, and morally. The staff at Cambridge International Academy creates an atmosphere of cooperative learning, and encourages each student to develop critical judgment and to become an independent thinker, able to work effectively with others, and be inspired with a life-long curiosity and love of learning. We believe achieving success is beyond the walls of a school classroom or an acceptance from a prestigious University; it is the inner motivation, solid work ethic, personal responsibility, drive, and an active way of life that helps students to thrive beyond post-secondary education.
Recognizing that parents are the prime educators, Cambridge International Academy is committed to working with parents and host families to develop and promote a common philosophy. Together, we share the critically important enterprise of preparing our children for active and positive living.
In addition to offering reach 'ahead credits' to grades 7 & 8, and promoting social responsibility, our small class sizes develop nurturing and positive working relationships with students. We support a learning environment that encompasses personal development, community involvement, academic achievement and leadership to be part of their Cambridge experience. Our teaching staff is dedicated to meeting the ever-changing needs of our students.
On behalf of the entire staff at Cambridge International Academy, we look forward to inspire and challenge your child to excel in all facets of his/her learning and to attain his/her potential. Visit Cambridge International Academy and experience a difference in education and innovation. This may be one of the best decisions you will make in your life. We invite you to look at our information package and discover an enriching way of education.