Located in the heart of Toronto on 16 hectares (40 acres) of beautiful green space, Upper Canada College is an all-boys school that seeks to ignite boys' curiosity, imagination and passion and challenge them to make a difference.
UCC is one of the oldest and most storied schools in Canada. Its alumni include a who's who of Canadian political, business, and cultural life. Its history is, in many ways, the history of independent schooling itself; to attend is to become a part of a Canadian cultural tradition, one that retains a prominent place in Canadian education.
A School for Boys
"As specialists in boys' education, we spend a lot of time thinking about the unique ways in which boys learn and grow," says Heather McCall, Recruitment and Marketing Specialist. Upper Canada College produces well-rounded boys who excel in academic performance, co-curricular activities and social skills.
The school offers the International Baccalaureate continuum of education, a diploma that is highly recognized at many top universities and colleges around the world. This liberal arts program that aims to develop inquiring, knowledgeable and caring boys who strive to create a better and more peaceful world. "A UCC experience, for our boys, is about opportunity. All our boys graduate, and when they head off to universities around the world, they often report back they were more than prepared for the transition," says David McBride, VP of Enrolment Management at UCC.
A Big School with a Small School Feel
Upper Canada College offers "big school opportunities with a small school feel". Despite the College's large campus, teaching staff and administration still seek to provide individual attention to students. "The school is full of faculty, staff and students who are warm and friendly," says McCall.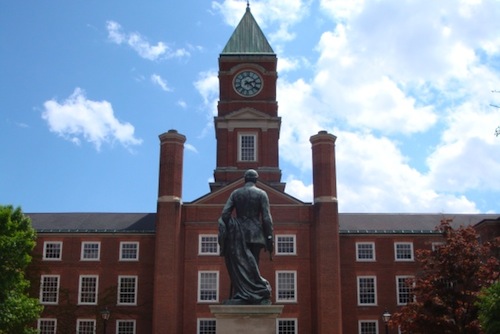 The school's lively boarding community attracts students from across Canada and around the globe. Students forge lasting friendships at Upper Canada College, bonds that are strengthened even after boys leave the school and connect with other UCC grads. "Our Common Ties mentoring program boasts close to 350 mentors in Canada and globally, in careers including finance, medicine, law, healthcare, entrepreneurship and more," says McCall.
A modern learning space
At the Upper School, many of the classrooms and boarding facilities have been completely modernized. The math and science labs have been outfitted with new equipment, accessible sinks, light-dampening blinds and new desks and chairs. Some classrooms have been equipped with portable group whiteboards and smartboards that allow teachers to save notes. Ergonomic and flexible desks and brightly coloured chairs finish off the newly renovated spaces. New lighting systems and an updated heating and cooling system has made the entire space more comfortable and energy efficient.
•