It's a particularly big year for Lakefield College School, given that the school has appointed a new Head of School and Head of Foundation, Anne-Marie Kee, who will join the LCS community in August, 2017. Kee is a very familiar face in the world of education, having served for more than a decade as Executive Director of CAIS, an association of the nation's top schools. She's also a parent of the school, as her son has been enrolled at Lakefield since 2013, and her daughter attended LCS for Grade 9.
Kee began her career teaching English in the Kingston, Ontario area, then went on to become the Dean of Studies and Chair of the Integrated Technology Implementation program at Lower Canada College in Montreal, Quebec. She also sits on the Board of The Association of Boarding Schools (TABS); is the President of Independent Schools Association Network (ISAnet) and is on the Executive of the NAIS International Commission on Accreditation.
Kee is without a doubt one of the most knowledgeable people in the country when it comes to independent and boarding school education, and that she has chosen LCS for her children is as good a testament to the quality of the programs that we could have.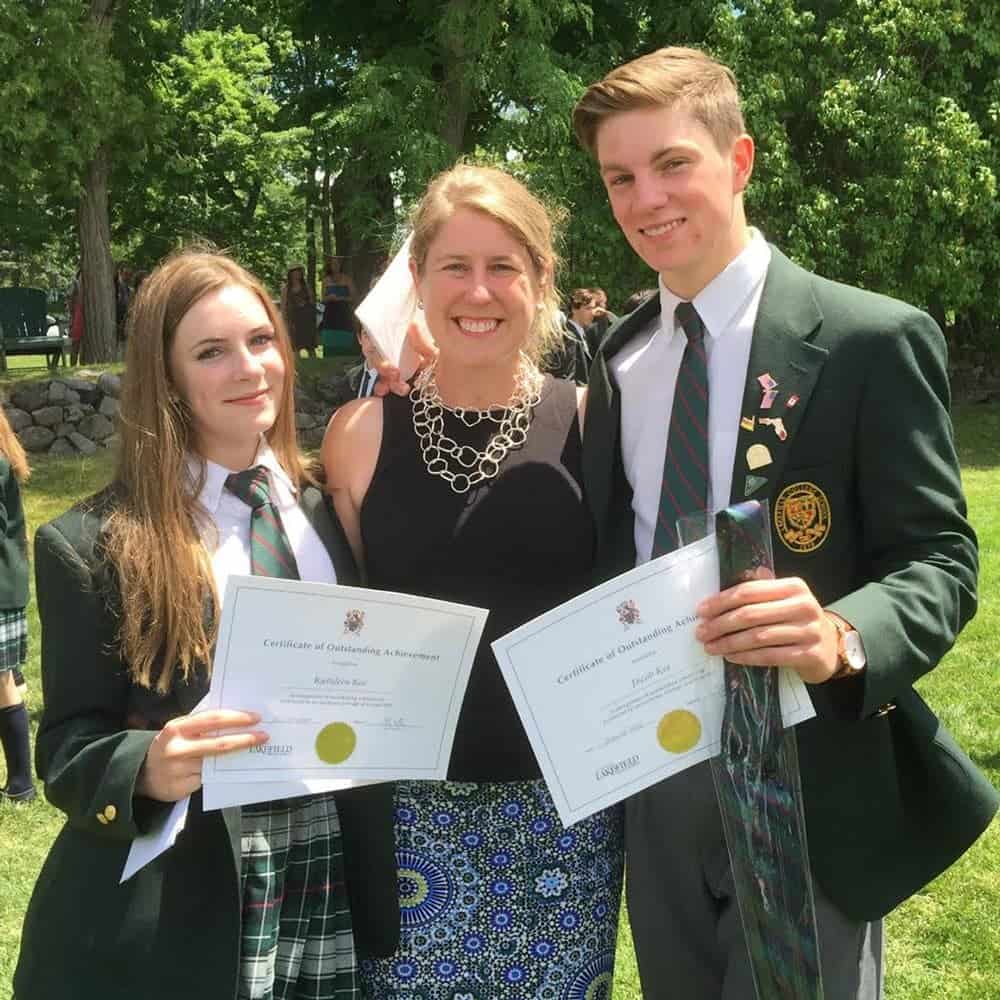 Anne Marie Kee with son Jacob and daughter Kathleen.
Developing tomorrow's leaders
Lakefield College School's academics, athletics, and arts programs are all highly-respected. But what defines the school is its long-held commitment to developing leadership and character in students.
Encouraging rigour, developing resourcefulness and building resiliency are key aspects of the program which prepares students for university and success in life. There is no better place to experience challenge, success and failure than in a safe and caring community.
The school's focus on leadership is formalized in its Leadership, Character, Values Program (LCV) which encompasses all grade levels. "The LCV program focuses on a different theme at each grade level, is supported by grade mentors and includes intersession excursion opportunities," says Peter O'Grady, Director of Student Leadership.
The LCV program gives students a set of tools to apply in all aspects of their lives, and acts as a conduit for engagement in service projects, athletics, co-curriculars, and the Round Square program. "Our goal is to enable each of our students to develop their individual potential as self-confident and ethical leaders who are innovative, inspiring and committed, and who are positioned to make a difference in whatever endeavours they choose to pursue in the future," says O'Grady.
The school's reputation for leadership is well-founded: its graduates include many leading artists, CEOs, athletes and even royalty. LCS graduates receive offers of admission to outstanding post-secondary institutions around the world – the 102 members of the Class of 2016 received University/College offers with scholarship offers totaling $1,281,250.
Student life
With a majority of students boarding on campus, and day students often choosing to stay on campus into the evening hours, Lakefield College School provides an environment that maximizes learning opportunities, and allows students to make the most of them.
With only four classes per day instead of five, students can organize their workload more effectively, and have more time during class for meaningful learning with their teachers and peers.
The schedule offers up to 90 minutes per day of flexible time, called "Grove Time," which allows for enrichment activities such as leadership development, guidance, clubs or extra help. Night and online classes are yet another way Lakefield College School expands learning hours and helps prepare students for university life. At LCS students enjoy individualized learning support while being immersed in experiences that focus on educating the whole student.
An opportunity to make life-long friends
For the majority of students, Lakefield College School is their home away from home, an intimate community where they engage in a wide range of co-curricular activities and a diverse, vibrant social life.
The beautiful natural campus, and relaxed atmosphere means students feel comfortable being themselves. The small community also means students feel heard and supported by teachers and staff. All the while, students are challenged to take charge and demonstrate leadership in their life and the community.
In many ways, Lakefield College School is unique, and its many alumni attest to the kind of impact the school had on their lives. Hear what Tavis Simms Class of 2016 said about his experience while at the school:
Visit Lakefield College School to learn more about their unique strengths, including individualized academic support, advanced placement courses, experiential learning, international opportunities and an enriched arts and athletics program.
For more information, visit www.lcs.on.ca/openhouse
•