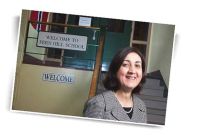 Deborah Gutierrez, Principal


Welcome to another exciting year at Fern Hill School. I look forward to working with our staff to provide a learning community that is safe and secure; one that builds the young child's self-esteem and develops confidence. I have the pleasure, on a daily basis, of working with our teachers to provide activities and opportunities that will enhance your child's learning experience.

I couldn't imagine a more rewarding job! Our staff work together to create an environment at Fern Hill where students can thrive and learn. Emphasis is placed on the complete development of the child during the preschool, kidergarten and elementary years. Fern Hill's preschool program is designed to provide a wide variety of opportunities for learning through play. We continue to place importance on literacy and numeracy in the preschool years in a warm and caring setting. Fern Hill's elementary school programs are integrated to provide continuous and connected experiences in Languages, Mathematics, Social Studies and Science. Specialty subjects such as Art, Music, Technology, French and Physical Education are incorporated into the curriculum. The kindergarten and grade school programs provide an extensive program to help children reach their full potential and to develop confidence, while still retaining his/her individuality. The emphasis of the program is not only on academics, but on the development of the whole child. Students develop important character attributes such as respect, responsibility and positive communication which are fostered and reinforced throughout the year in a caring and nurturing environment.

Increased French education has long been an interest of our families and we are pleased to offer additional French opportunities for the kindergarten levels, as well as the Extended French program beginning in Grade One. The Extended French program is woven into the school day and provides students with the opportunity for French Language Arts enrichment.

I welcome the input from parents and thank you all for your support – in the past and throughout the upcoming year. It is our privilege to be a part of your child's education and we value the relationships between students, teachers, and parents – please don't hesitate to contact me with any questions or concerns you may have.

Our commitment is to spark a life-long love of learning by inspiring all our children to become actively involved in discovery, and I look forward to another successful year with Fern Hill students, parents and staff.