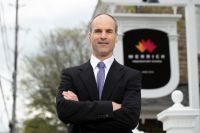 Mr. Kevin Farrell, Headmaster
Welcome to Fulford Preparatory College, located in Merrickville, Ontario - "Jewel of the Rideau." We strive to build our traditions and sense of community, while establishing a solid academic foundation which will support our students as they prepare for the challenges of University.
With young men and women drawn from around the world, we nurture an intimate campus environment. This intimate atmosphere empowers students with the discipline to persevere in their studies, the freedom to explore new opportunities, the confidence and creativity to express themselves both in and beyond the formal classroom, and allows for an appreciation of diverse faiths and cultures. Our dedicated teachers encourage students to take calculated risks, to try something new, and to challenge themselves in academics, extra-curricular activities, and community service.
Of course, mastery of the English language is a core component of our program for international students, as is the acquisition of technological, analytical, collaborative, and problem-solving skills for all students. A byproduct of our school culture is the deep personal friendships that result from all students bonding within our small, personal, and inclusive environment.
As our global village continues to evolve, campus enhancements will transform the face of Fulford Preparatory College. What we will never compromise is the small-class ambiance and warm rapport between students and faculty which permeates the school.
Please contact our admissions office [email protected] for details of our programs and ethos. My personal goal is to ensure that a Fulford education will be a transformational experience in the lives of all of our students.