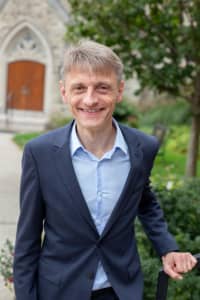 Mark Benkelmann, Principal
The German International School Toronto is a private, co-educational, German immersion school which provides students with a unique international perspective by combining the best of both the Canadian and German curricula.

Non-denominational and co-educational, the German International School Toronto teaches German and English-speaking students side by side and offers its students a seamless transition into both the Canadian and the European school systems. With classes from Kindergarten through Grade 8, the school creates a unique, multicultural experience within a warm and nurturing environment.

By combining a strong curriculum with small class sizes, a wide array of cultural events and extracurricular programs, including Drama, Art and Music, the school allows students to excel academically and develop individually. As Ontario's only German full-time day school and one of 140 recognized German Schools worldwide, we offer a very attractive alternative to other Canadian independent schools.

The German International School Toronto is part of a network of 140 German Schools Abroad which are sponsored by the Central Agency for Schools Abroad (ZfA) on behalf of the Federal Foreign Office. From Kuala Lumpur to Kiev and Toronto to Tokyo German Schools Abroad place particular emphasis on individual development, multilingualism and intercultural exchange. With the support of the Federal Republic of Germany and excellent teachers, students of German Schools Abroad receive a first-class education and obtain German as well as local qualifications. It is the German language and culture, education, as well as encounters and exchanges that form the cornerstones of German Schools Abroad.