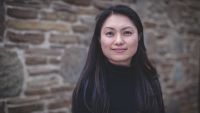 Mrs. Meevis, Principal
I am very excited to begin my 15th year at Glenburnie, and honoured to be commencing my 5th year in the role of School Principal. The start of a new school year provides the opportunity for new beginnings and to put one's best self forward. Setting academic, extra-curricular, and social goals in the areas of personal development, leadership, and environmental awareness are essential keys to success.

Our school-wide theme this year, which focuses on character development and leadership is:

Together, Everyone Achieves More


Students will continue to learn how to lead and to grow as individuals, to work collaboratively with their peers, and to have pride in their accomplishments and in their school. I feel strongly that it is our role as educators to provide students with the best possible tools and skills for lifelong learning.

"Intelligence plus character ~ that is the goal of true education." ~ Martin Luther King Jr."

At Glenburnie, we believe that strong, direct, and open communication is best. Please do not hesitate to contact your child's homeroom or rotary teacher(s) if you have any questions or wish to discuss the personal academic/social goals for your child.
We are always pleased to meet with you for scheduled appointments or to communicate via email or telephone conference. Also, please do not hesitate to contact me, or schedule a time to meet with me, if you have any concerns or questions which you would like to discuss further.
On behalf of the entire staff of Glenburnie School, we welcome you, and your children, to an exciting new year of growth and learning.
Warmest Regards,
Mrs. M. Meevis