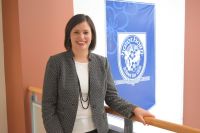 Regina Gutiérrez Cortina, Head of School
At Hawthorn, we are committed to providing an integral education, incorporating academic excellence and character development. We are always looking for opportunities to enrich our curriculum and ensure that we are providing a strong classical liberal arts program.
I am pleased to inform you, then, that Hawthorn School continues to work with the Royal Conservatory of Music, Learning Through the Arts department, to offer their "Music Champion Program" to our Grades 7s and 8s which began in February 2015 and spans a period of two years.
I look forward to working with you as we move forward on the amazing journey of helping your daughters grow into women of intelligence and integrity, ultimately becoming leaders of strong character, vision and faith.