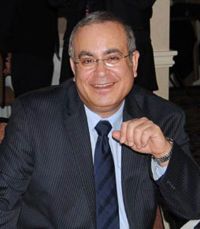 Alfred Abouchar, Headmaster
Alfred Abouchar is the Headmaster and founder of La Citadelle International Academy of Arts & Science. With a rich and diverse educational background spanning 40 years in both Canada and internationally, Mr. Abouchar has created this unique educational institution to instill in children a profound value for education while offering them a curricular program of study that leads students to the highest standard of academic achievement. For the past 17 years, La Citadelle International Academy of Arts & Science has been the living testimony of his vision that All children can succeed!
Fluent in both English and French, Mr. Abouchar holds an Honours B.Sc. in Physics and Chemistry from the American University in Cairo, a B.Ed. from Althouse College of Education of the University of Western Ontario, a M.Sc. in Physics from the University of Western Ontario and a M.Ed. from the Ontario Institute for Studies in Education of the University of Toronto.
Beginning his extensive career in education by teaching Physics and sciences at the secondary level, Mr. Abouchar was recruited by the Ministry of Education as Education Officer, Provincial Consultant in Mathematics and Sciences and Secretary General of the Council for Franco-Ontarian Education. He has among his various academic contributions also occupied the positions of Principal Investigator & Coordinator of the Ontario Assessment Instrument Pool in Chemistry and Physics, Professor at the Faculty of Education of the University of Ottawa and Superintendent of Curriculum, Research and Continuing Education with the Ottawa-Carleton French Language School Board. Mr. Abouchar has also lead the Ontario delegation at the joint Canada-France Educational Workforce in Chad, founded the Multicultural Francophone Association of Ontario, and served for 9 years on the Ontario Advisory Council on Multiculturalism and Citizenship.
Mr. Abouchar has furthermore participated in the provincial overhauling of the Ontario Science Curriculum, written Physics and sciences textbooks, developed innovative educational software and related films, and lectured extensively on a variety of topics in Education.
A passionate musician and composer, Mr. Abouchar has successfully merged his musical talent with his expertise in computer technology and pedagogy to create a unique Computer Music Program of study which is offered exclusively to all elementary and secondary school students at La Citadelle. The annually produced albums of their collective compositions are but tokens of the authentication of the development of their creativity and their power of learning and achieving at La Citadelle.
"Since 'seeing is believing ', I gracefully extend an invitation to all parents of school children to visit La Citadelle and experience first-hand its harmonious and scholarly perspectives and to join us on our fascinating endeavor of distinctly shaping the lives of our children and leading them to success," - Mr. Abouchar.