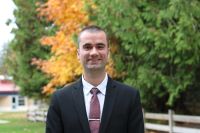 Hugh Burke, Headmaster
Often, we have people tour our school, thinking about investing in an education for their children. Such tours are conducted by our student ambassadors, and we often receive comments about how direct, polite, thoughtful, and friendly they are. Most parents want their children to be just like the students who conducted the tour. It is our best guide to how others see us: their delight in meeting our students.
The students behave the way they do, of course, because families and the school share values, because we come to know each other, because we insist on similar things, because we stay involved with each other, and because virtually everyone here is noticed and is important. We are attached, all of us: old and young, students, teachers, parents, and staff, joined in the common cause of education that will make a difference to our children, and a difference to the world they will inherit and will lead.
Our Mission Statement: Learning to live well, with others and for others, in a just community.
We have a community of concern, and one that will help our children to grow into fine young adults. It is a pleasure to watch my children grow up within this fine community, and I know I share this pleasure with the parents of all of our students from Junior Kindergarten through to Grade 12.