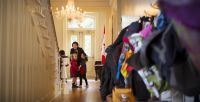 Jacinta Synder/ Tracey Chong, Head of School
At Rotherglen, we pride ourselves on being a uniquely warm and nurturing school community, which we believe enhances every student's learning experience. We actively promote the development of moral character at every grade level and each student is encouraged to strive for academic excellence, personal development, respect and citizenship. Students are better able to achieve these outcomes when they are connected to a healthy, happy and safe community.
Our programs are rich in opportunities for exploration and self-discovery where learning is an active process. The life and heart of our campus is the children who come to learn, the teachers who come to teach, and the Rotherglen families who enrich our inclusive community.
The best way to learn more about the exceptional educational experience we offer our students is to come for a visit. We encourage you to continue to explore the website and contact our admissions office to arrange a personal tour. After all, seeing is believing!