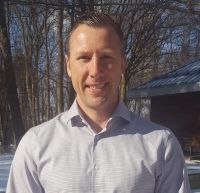 Adrian O'Driscoll, Head of School
I've been involved in children's outdoor education for over 20 years. Over the years it's been an amazing experience to watch children grow and develop as they interact with the natural world. As a parent, I know that my children do not have the same opportunity to freely explore the natural world that I did as a child.
Spending time in nature is invaluable for childhood development. The Nature School's diverse 555 acre campus allows students to explore, discover and learn. The Nature School campus has many distinguishing features including, an apiary, an organic farm, solar panels, wind turbines, sustainable houses, creeks, ponds, wetlands, meadows, a sugar bush and access to the Humber River. This landscape provides a jumping off point for students to learn math, science, social studies, language arts, visual arts, music, drama and physical education.
The Nature School's unique ethos uses Forest School learning approaches and philosophies and blends it with the Ontario Ministry of Education's Curriculum Guidelines. Our students are provided with a well rounded education that prepares them to enter the traditional school system while developing the skills to take safe risks, find solutions and answers to their own questions, and develop a sense of belonging to the world.