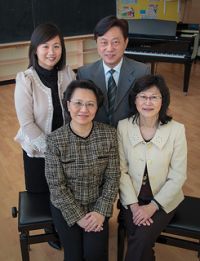 Katherine Kwok, Ms.
Yip's Music & Montessori School offers a unique curriculum that promotes academic, language and performing arts excellence for children. Our vision to create an environment which would foster and enhance the musical talents of youth is at the core of the program philosophy. Yip's encourages our students to aspire to high moral values, at the same time teaching extensive cultural sensitivity, preparing them for unlimited global success.
Yip's Music & Montessori School focuses on the individuality of students. We designs individualized program so students learn according to their own pace. With small class sizes and low student/teacher ratios, the school's experienced, certified teachers are able to foster classroom discipline and deliver individualized instruction.
Yip's offers an integrated Montessori program that includes Language, Mathematics, Practical Life, Sensorial, Science, History and Cultural Education. The school's child-cantered, caring environment empowers children to reach their potential, while nurturing confidence and self-esteem. We follow and excel the Ontario curriculum for students. At Yip's, academic excellence and high ethical standards are nurtured. Students are encouraged to be creative, independent and self-disciplined.
Yip's is also renowned for its effective Music Program. Many studies have found that music learning actually enhances children's brain development, especially in the areas of mathematics and language.Through practice and participating in performances, students are able to master better body coordination, be more self-expressive and learn to value the importance of teamwork. Yip's also provides language instruction in English, French and Chinese to better prepare students for the challenges of a multi-cultural world. The stimulating programs offered by Yip's provide the challenging academics, social and emotional guidance you want for your child.