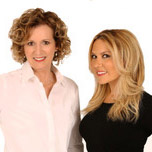 Want an educational assessment of your child? Looking for some personal advice on which school your child will do best at? Or how to assess and understand your child's report card or IEP? Schedule a free call today.
Karen and Ann Wolff are educational consultants who work to help students become successful lifelong learners by providing a variety of services, including academic assessments, IEP, and report card reviews, transition planning and school-placement advice.
As featured in:
Services
School selection and placement
We are experts in finding appropriate schools in both the private and public sectors for our clients. We have relationships with private schools and can assist with making recommendations, arranging tours and with all aspects of the application process. We have created a Needs Assessment tool that simplifies the often overwhelming process of school selection. The results help to edit your school choice options. We present you with school choice options that best match the academic, social and emotional needs of your child while meeting criteria that is specific for your family.
Academic assessments
We use the most current standardized assessment materials to ensure relevant, reliable and valid results. We use this information for education planning by creating achievable recommendations to improve student success and achievement based on accurate and current results and data. We also use this data to create accommodations and modifications specific to your child's learning profile that is based on expectations outlined by the Ministry of Education.
Individual education plan (IEP) development
An Individual Education Plan is an Individualized written plan describing the program and/or services required by a student. It is a legal document that describes what a student needs in order to be successful in any learning environment. We guide the process of creating this document by selecting appropriate academic accommodations/modifications that are strength-based while ensuring all socio-emotional needs are identified. We also review IEP's that are already in place. This ensures that the IEP clearly aligns with the information provided by the standardized assessment tools and achievement data.
Advocacy support at the school level
We can attend in-school meetings. This might include an informal teacher meeting, a school-based team meeting or a more formal IPRC (Identification, Placement and Review Committee) meeting. Given the vast array of supports/resources/specialized equipment, Ministry of Education software, understanding the language of education and the many acronyms and individual rights every student in Ontario is entitled to – many of our clients ask to have representation at school team meetings to advocate on their behalf.
Additional services
Mediation between School and Home and advocacy support at the school level (i.e., attending school meeting; collaboration with classroom teachers)
Developing social/emotional support plans and recommending services and support for social and emotional issues affecting academic performance
Transition planning (i.e., from elementary to high school, high school to post-secondary)
Relocation research and assistance (provide school options in the public and private sectors)
Pathway Changes (from Applied to Academic)
Contact details for Wolff Educational Services

Contact:
Karen Wolff & Ann Wolff
Address:
3900 Yonge St #1011, North York, ON