Branksome Hall is an independent girls' school occupying a 13-acre property in the Rosedale area of downtown Toronto. Founded in 1903, the school offers a liberal arts education and includes a Junior School (JK through Grade 6) and Middle and Senior Schools (Grades 7 through 12). It is an International Baccalaureate World School and a university preparatory school.
The social organization of Branksome Hall reflects a British model, with houses (called clans), uniforms, and prefects. The campus includes about a dozen buildings, some of which are heritage homes that predate the establishment of the school (including the three that are now home to Branksome's 64 boarding students). But the campus also boasts some strikingly modern facilities, including the Athletics and Wellness Centre (AWC), completed in 2015. The AWC has the feel of a commons and provides a focal point for student life. Designed by MacLennan Jaunkalns Miller Architects, it's intended as a statement of the values of the school, particularly around the integration of academic, social, and athletic activity. Per the architect's brief, the building was designed to "encourage students to pass by and see athletics—inspiring involvement in the athletic community … with visual connections to nature and the ravine." It does that and more.
As the buildings attest, the school has defined itself through its ability to evolve. It opened as a non-denominational school at a time when that wasn't the norm in the city of Toronto. Bishop Strachan School and Havergal College were already established, and the Anglican Church was a foundation for both of those schools. Likewise, St. Mildred's-Lightbourn School and St. Clement's School were both up and running. Branksome Hall was conspicuous for providing an alternative.
The founder, Miss Margaret Scott (it was something of a quainter time, and all female faculty members were referred to as "Miss") wanted it to be a school for everyone, one that would look to the future rather than the past. Her vision for that future was one in which women raised their voices and took a seat at every table. In that, she led by unwavering example. The Weston Drawing Room at 10 Elm Avenue retains the feel of the school 100 years ago. It's dominated by a portrait of Miss Scott that, nice as it is, probably doesn't do her justice. She looks serious, maybe a bit prim. She was forward thinking, outspoken, and convinced of the power of girls to change the world for the better. She taught manners as a means of imparting lessons of self-respect and as a means of comporting oneself forcefully in the world. One student recalled hearing Miss Scott saying, "Get down on your knees, girls, and thank God there are no men in heaven." It's hard to imagine her portrait saying that.
Branksome Hall grew and quickly cemented a reputation as an environment that was vibrant and progressive. But not everyone loved it. One visitor described the atmosphere as one of "riotous confusion" (though, to be fair, she was visiting on Halloween). Alumnus Jean Ross Skoggard remembered that "a friend's mother removed her from Branksome Hall Junior School because she was 'having too much fun' and sent her to Havergal, which she hated. I'm afraid that her personality was adversely affected consequently."
Others found a home here precisely because it was such a breath of fresh air. Teachers were young and spirited. Mary Hamilton, director of physical culture, was an expert in Swedish gymnastics. There are photos of her and the girls dressed in white athletic bloomers, practising it on the lawns.
The Weston Drawing Room is also where Dr. Edith Read held sway once the school moved to the current location in 1912 . Read, the school's second principal, served in that role for 48 years, imprinting a character on the school that remains today. "She was quite a woman ahead of her time," says Jurjevich, "[in terms of] the things that she stood for and her love of the girls. And she was quite feisty." She was also keen to chart new paths for women, encouraging them into new areas of activity and influence.
Outdoor education was conspicuously part of that larger project: it was new, groundbreaking, and unique, and it developed resiliency, strength, and character. Says Jurjevich: "she was unafraid to get the girls to experience things that may have been new or different." The school owned a property north of the city and Read called it the Winter Playground. She wanted the students to learn to ski, and she led by example, learning to cross-country ski herself. "She pushed. And for her time she was quite ahead of the game," Jurjevich says.
She was also a canny business person, insinuating herself in a world of business at a time when it was almost exclusively a man's world. She bought properties, fielded donations, and managed the business of the school. All of that took her into environments where most women weren't seen as equals—but she was. She simply demanded respect, and, from all accounts, she got it.
In her work, Read sought to expand the students' understanding of diversity and human rights, often in contrast to the existing cultural and political context. She brought in a guest speaker to discuss the treatment of the Jewish population in Europe at a time when the prime minister was still seeking to have peaceful and positive relations with Hitler. Later, she had Paul Robeson—a black performer and activist who was synonymous with the civil rights movement in the US, at times becoming a lightning rod for outrage—sing at the school.
In a word, she was different. Says one student, "I was 'sent to Miss Read' frequently for being impertinent, being late, getting my hands dirty. She never chewed me out. She'd send me to the drawing room, where I could curl up and read." (Weinstock's approach today is strikingly similar: "My rule is that anybody who walks into my office walks out feeling better. That's my job. It doesn't matter if there's been a mistake or a transgression; the question is: 'how do we put this together again?' That's the essential humanity of this place. That's why I've stayed here my whole career." It seems to work—even we left her office feeling better.)
"Miss Read admired girls who had initiative," recalled another student. "She wanted people to enjoy life." She admitted girls with disabilities, including epilepsy and cerebral palsy, something that would have been conspicuous for the time. A student left because she was pregnant, and when the baby was born, Miss Read sent her a gift. It's a small gesture, perhaps, but in all her actions she was sending important messages, none of which were lost on the students. They felt heard, valued, and supported.
It's an interesting thought experiment to wonder what she would think of the diversity within the school now, such as the range of activities that the students are involved in, the all-gender washrooms, the active promotion of inclusion, and the sister school in South Korea. While the conversations were different in her day, Read was well ahead of the cultural curve in terms of women's empowerment and social justice, and she was outspoken in her way. She led the school by example, both for the students' benefit as well as that of other educators. That tradition is still very much alive at the school today.
From the beginning, Branksome Hall has seen itself as a women's institution, not simply a girls' school, largely thanks to strong women leaders like Scott, Read, and the others that would follow. The tradition of inquiry around best practices has been amplified over the years, most visibly in the creation of the Chandaria Research Centre (CRC), which opened in 2016. The CRC is tasked with researching excellence in girls' education and has almost instantly become an industry leader, offering insight not only into girl's education, but education in general.
The CRC is built on earlier foundations, including a decade-long partnership with The LaMarsh Centre for Child and Youth Research at York University and, in particular, Dr. Jennifer Connolly. "One of our key goals is developing a culture of research here within Branksome Hall," says Friesen, "and to continue to develop that research culture within our faculty and within our community." With the establishment of the CRC, Branksome Hall became one of the rare few school-based research centres of its kind in North America.
More specifically, the CRC's mandate is to bring together academic research and the student experience within the school, and to provide a space to freely innovate. "They're always asking questions around difficult topics," says Dr. Mira Gambhir of the faculty. "Being a research centre in a school setting, you want an environment that's not afraid to pursue those questions. And I think that's what this space offers, and that's the environment that the school is." The CRC is a demonstration of the school's commitment to growth, inquiry, and best practices. Decisions aren't made from on high, but rather only after hearing from stakeholders—including parents, alumni, teachers, and students—about real, lived experiences.
The studies undertaken are varied, ranging from those you might expect (such as fostering resiliency through athletics) to those that you might not (such as the place of humour in effective teaching practice, based on measurable health impacts). The latter was a two-year Junior School project that was completed in 2018, and the findings have now become part of the core curriculum. Another recent project looked at outdoor recess: "In IB programming, the schedule is very much defined," explains Gambhir, "so we were looking at what were the spaces for free time and play in the Middle School years—which is a big time of transition, from Grade 6 to Grade 7." One of the teachers, who is also a research strategist, designed a study to look at creating digital-free recesses. The findings of that study were used to form policy around unstructured periods of time and use of digital devices. The Road After study looked at girls' experiences as they moved into their post-secondary lives. "The reason that we pick particular projects," says Gambhir, "is because of an absence in the literature and trying to inform studies that can contribute to wider scholarship. … It's about that cycle of questions you might have as a teacher, and being supported to answer it and then share it back and deliberate outcomes."
Should families care? Yes, actually, they should. It can seem academic and removed, though even just three years into the project, the Centre has cut an impressive profile of informing development, academic delivery, and student life. The knowledge that no change is adopted in any aspect of the school without first considering its effect should be comforting. Where other schools might adopt wobbly chairs based on the marketing material that comes from the company that builds them—or perhaps only in the belief that anything new must have merit—the reasons for adopting them, at Branksome, are understood in a much more objective and informed way. That students themselves are involved in these studies only adds to the richness of the experience—they learn research skills first hand, knowing how and why the work will go on to have a real effect on the student community.
---
"Even Einstein asked questions"
---
In all of the classes, at all grade levels, students follow a transdisciplinary, inquiry-based approach to learning. Instruction is guided by big questions and overarching understandings. Friesen says, "We are identifying and [being] intentional around what the core skills are, but also providing opportunity for kids to be more creative and go beyond just practicing the core skills."
"The emphasis on multiple perspectives goes right back to our roots," says Jurjevich. Central to the decision to adopt the IB were the curricular attributes it shared with the school's long-standing traditions. The liberal arts is at the heart of that, which the task force saw as a great strength. "The IB is teaching and learning," says Jurjevich, meaning that it describes how the curriculum is both developed and delivered. But she's quick to add that "first and foremost we're educators of girls, and trying to understand how girls learn best, what girls need to feel successful, and what does success even mean to any given girl," including paying attention to "the social-emotional element, the well-being underpinnings that are necessary for a girl to be her best self every day when she comes to school."
"Schools like this always struggle with external folks who like to measure 'numbery' sorts of things," Friesen says with a chuckle. "Does success mean how many kids got to X type of university? Does success mean they got a score on the IB exams of whatever? Does success mean how many students were Ontario Scholars? From the outside world, those can be interesting questions, [but] they're questions that we push back against a lot because we really want to be able to offer a program that is accessible to a wide range of kids [in terms of interests and talents] and success might not look like it fits into one of those [external] bands." Friesen feels that the best measures of success are personal and individual: "Are they happy? Are they engaged? Do they want to come to school in the morning? When they're here, is there something interesting and stimulating that makes them want to stay longer? Do they feel the forward momentum?"
That sentiment is shared throughout the faculty. They have a desire to take every opportunity to expand students' horizons in meaningful, substantive ways, exposing them regularly to new ideas, people, disciplines, and perspectives. Amanda Kennedy, head of the Junior School, says that a core principle that she keeps top of mind is this: "if you see it, you can be it." Even from a very early age, that means exposing girls to big ideas, and little ones too, as well as the people that exemplify them. Alumni come to the school regularly to talk about their paths after leaving and how those paths were informed by the work they did at Branksome.
Professionals (sometimes parents of current students, but not always) also come in to speak. In our experience, that's true across all the grade levels. When Max Eisen won the Canada Reads contest in 2019, both students and instructors commented to us that they had met him and spoken with him when he came to the school. Formally and informally, instructors are keen to avail students of those types of personal interactions. When Branksome Hall's administrators reached out to invite Gloria Steinem to the school, the feeling was that the worst thing she could say was no. Well, she said yes, addressed the student body, toured the school, and spoke with students in the hallways. One had written a paper on Steinem, and her teacher got them together, they discussed the paper, and Steinem signed it. The school also brought in Cheryl Pounder, an Olympic athlete who was on Canada's national team at the 2002 and 2006 Winter Olympics, and Dr. Ashley Stirling from the University of Toronto to talk about resilience. A student commented that "I learned that resilience is more than just about overcoming obstacles," and more about thriving.
That's what Kennedy means by "if you see it, you can be it." If you see leaders, you can lead. If you see scientists, you can begin to imagine being one yourself. If you recognize passion in others, you can begin to recognize it in yourself. Inspiring students with real-life examples is a core aspect of program delivery, and the faculty is clearly dedicated to it.
Branksome Hall Asia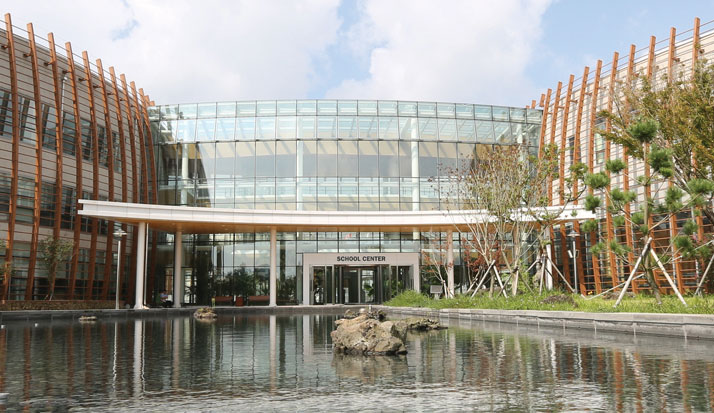 In 2009, Branksome Hall was invited to create a school in South Korea at the invitation of the Korean government, and the first classes were held there in January 2012. The country was building a new city on Jeju Island—literally creating a city where one had never been before—and education was a key part of the planning. Their goal was to have four or five world-class K-12 schools, later adding colleges and universities. Together, they would create a global education centre within the larger civic context.
To date, there are four schools on Jeju Island, of which Branksome was the second to establish itself there. It was a striking move for all parties involved. "We didn't just say we wanted to be part of the world," says Weinstock. "We created another version of ourselves. That's big and bold, and I think we became bigger and bolder."
It's also a striking environment. Jeju is a volcanic island and a UNESCO World Heritage Site, given its geologic history. The campus was designed by architect Pit Li Phan, and it's starkly different from the Canadian campus. The buildings are low, allowing views of Mount Halla from points throughout the campus. The intention was that that building would fit into the natural landscape.
Branksome Hall Asia exists unto itself and doesn't share an administration, faculty, or staff with its Canadian counterpart, though the relationship between the schools is significant. All Grade 9 students do a study abroad program hosted there. With that, "they start to make connections with their Korean sisters," says Jurjevich. Each is assigned a sister while in Grade 8, so they meet them for the first time in Grade 9, providing an opportunity to work together in person. The faculty work together on creating and developing joint curricula. That said, it's perhaps less an administrative relationship between the schools than it is a personal one. The facility in South Korea was created not to extend the brand, but very much to extend the student experience, both in Canada and South Korea.