Kenneth Gordon Maplewood School

THE OUR KIDS REVIEW

The 50-page review of Kenneth Gordon Maplewood School, published as a book (in print and online), is part of our series of in-depth accounts of Canada's leading private schools. Insights were garnered by Our Kids editor visiting the school and interviewing students, parents, faculty and administrators.
When Anne Rushforth's son was in Grade 5, she overheard his teacher introducing him to another parent as "one of her slow students." Rushforth bristled, knowing that "he just needed a school to teach him in the way that he learned." She said, "I decided that there needs to be a school for these children, where they're understood." So, in 1973, she built it, naming it after her son, Kenneth Gordon. And parents have been thankful to her ever since.
Rushforth based the program on a tutorial model and included multi-sensory instruction. As digital tools became available, the school was quick to adopt those as well. In that, and much else, it was the first conspicuous example of an approach that we see more commonly today, and for which the school has consistently provided a model. The results, from day one, have been impressive. Students arrived with poor self-concept, having struggled in other settings. At Kenneth Gordon Maplewood School (KGMS), they proceeded to grow into a new sense of themselves and their capabilities. That's what the school continues to offer today: an individualized, empathetic approach to learning, based on a clear understanding of the social and academic challenges that the students face, which include a range of learning, developmental, and behavioural differences.
Children usually enrol at KGMS after an experience in the public school system, and most students typically arrive after a formal diagnosis has been made. For the Walton-Knights, the diagnosis was dyslexia, something that has affected the learning outcomes of three members of the family. Bryan Walton-Knight is a medical professional who battled dyslexia, and he and his wife, Nicola, were well aware of the hereditary risk factors when they had children. Yet, even in that context of intimate awareness, a diagnosis for their daughter wasn't immediate. After struggling in public elementary school from Kindergarten to Grade 2, she was diagnosed with dyslexia after completing a psych-ed assessment. Dyslexic students do not qualify for government funding, so in the public school context, all extra support has to be found by the school itself. In the Walton-Knights' case, the school was only able to provide a maximum of two sessions each week of Orton-Gillingham work—not nearly enough to address the issue effectively. Moreover, sessions that take children outside of the classroom at intervals through the week risk creating a sense of difference, both in the child's understanding of herself and in the minds of her peers.
This led the Walton-Knights to explore KGMS where, Nicola says, "two advantages immediately became apparent: the children didn't feel 'excluded' by being pulled from the classroom for special instruction, and Orton-Gillingham was incorporated into each and every lesson." Literacy skills are worked upon consistently, robustly, and within a context that doesn't underscore the learning difference.
Upon enrollment, the strength of the KGMS program was immediately evident. "The first weeks are a time of watching your child de-stress," says Nicola. Previously, she says, her daughter braced herself for what each school day would bring. Soon after enrolling, even her habits had begun to change demonstrably; she was walking more calmly and was generally more relaxed. "We knew we'd made the right choice when our daughter told us that 'I miss my old friends, but I need to be here to learn.'"
And learn she did. In fact, by the time she reached the end of Grade 7, the Walton-Knights sat down with the school-based team to plan her eventual re-entry into the secondary school system. It's important that students are well-prepared for just how different the public schools are, particularly in terms of their larger class sizes, social organization, and static assessment schedules. Nicola reports that "she's been on the honour roll from Grades 9 through 11, thanks to the fact that Kenneth Gordon gave her the confidence to take control of her own learning."
Based on that experience, the Walton-Knights enrolled their son at KGMS following a psych-ed assessment after Grade 1. "Because we had already walked the path once, we were much quicker to move. At the end of Grade 1, he was being flagged for struggling to pick up the reading. His psych-ed test highlighted high intelligence, a disability in reading and written output, as well as a tendency for attention deficit hyperactivity disorder." He, too, has flourished in KGMS's individualized academic environment.
Nicola says that "my fear was that our kids may feel labelled that they were going to 'the school for kids that don't fit.' [But] that was my worry, not theirs, and seeing them relax, learn, and improve was a wonderful assurance that this was the right choice for us."
The program—as proven over the 40-plus years of the school's life—has an ability to turn lives around and help students reach their potential while gaining an appreciation of their talents and abilities. They arrive believing that success isn't an option for them. But, as in the Walton-Knights' experience, they leave with a redefined sense of their self-worth and their place in the world.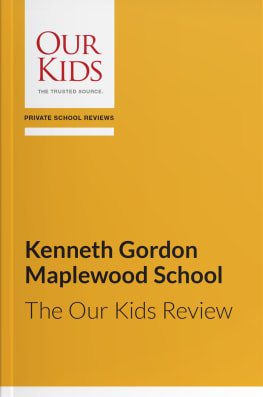 Key words for Kenneth Gordon Maplewood School: Flexible. Empathetic. Student-centred.
Kenneth Gordon Maplewood School (KGMS) is a coeducational day school for students in Kindergarten through Grade 12. It is a member of the Independent Schools Association of British Columbia, whose members include other private institutions such as Mulgrave School, Collingwood School, Crofton House School, and Fraser Academy. The school is divided conceptually between the Kenneth Gordon Maplewood Elementary School, comprising Kindergarten through Grade 7, and Maplewood Alternative High School, comprising Grades 8 through 12. The school is accredited by the BC Ministry of Education, and students graduate with either a Dogwood Diploma or an Evergreen Certificate.
Both the elementary and secondary programs are housed at the same facility and share resources, faculty, staff, and governance. Currently, 130 students attend the elementary school and 80 attend the secondary school. The elementary students take their classes in the main building while secondary students use a series of portables. When it was founded, the school was created to address primary and elementary students, and the ongoing development of the high school program is directly attributable to the success of the approach.
Dr. James (Jim) Christopher is the current head of school, a role he has occupied since 2012. When he arrived, he brought more than 40 years of experience in public and independent schooling. During his career, he has served as principal, superintendent, and head of schools in Quebec, Ontario, and Bermuda. He's the author of a number of books related to educating children with learning differences, as well as the blog Learning to Learn Differently. While a visit to the school is highly recommended, a visit with Dr. Christopher is as well. He's the best introduction anyone can have to the school, and he makes himself available to all parents, students, and staff alike. He's the point of calm in what could, if left unchecked, be anything but. Nothing appears to rattle him, which is perhaps one of the prime qualifications for his job.
An extremely experienced educator, he also embodies the sense of care that the school imparts. When we visited, the credenza in his office was clear, except for a set of bookends holding a single volume: a copy of R.J. Palacio's Wonder. "It's a great book," he says, absolutely confident in giving it pride of place. It's an empathetic, inspiring story about supporting a kid who struggles in school because he is different. In that, it's an analogue for the work that Christopher seeks to do: to inspire and support kids who, in various ways, are exceptional. When asked, he admits that the students that the school is built to address aren't always the easiest to serve. It's hard work, but he's quick to say that it's worth it, the emotion showing in his eyes when he does.
The environment has been designed to provide a sense of calm, set apart from the bustle and the demands of the world outside. Distractions are at a minimum, and intentionally so—it's quiet, with attention firmly focused on the moment and the needs of the day. Learning for any child begins with the understanding that the environment is safe—one of unequivocal care and support, and one in which they feel valued, comfortable, and at home. Instruction at KGMS begins at that point, seeking to foster a sense of inclusion and then building on the students' abilities. The school strives to grow engaged learners who are equipped with the confidence to take an active role in the community of the school and beyond.
Housed principally in a single-storey building, the school sprawls on a property that includes portables and outdoor recreation spaces. Not all elements match up seamlessly. In part, that's because the property wasn't created to serve the purpose of the current school—it began its life as Maplewood Flats Elementary School—and, as a result, there's a bit of a DIY feel. Classrooms are intentionally kept dim (despite many having large, plate glass windows), with workspace lighting rather than institutional overhead lighting. It's clear that the school has taken all available resources, efficiently crafting them into a form that meets the needs of the students in ways that grander environments wouldn't.
There are student projects sitting here and there, and work on the walls and in the corners, something that adds to the personal feel of the environment. "What schools need to be, before they do anything else," says Christopher, are "inviting places for kids to come. [It has] to be a place where children feel safe, where children feel they can take risks, where they feel that it doesn't matter whether they do poorly at something—they're not going to be judged on that. They're going to be encouraged, supported, and helped to do better the next time."
Many parents arrive feeling, understandably, a bit at sea, and the faculty are very attuned to that. "The only way you're going to find out what happens at Kenneth Gordon is to walk through the doors and see for yourself," says Christopher. He's aware that this is a point on a longer journey and that there's a lot at stake. One parent told us that "after years of trying to get our daughter to 'fit' into the traditional education system, and seeing her lose her sparkle and love of learning, we knew we had to find another route … The tag line on the school's website—'They are bright; their potential is extraordinary. They simply learn differently'—really stood out for me." Another parent told us that "the school takes all those worries that parents have had to carry and negotiate and releases you from them by addressing them through their team approach. It relaxes the whole family."
For the students who attend, KGMS is clearly seen as a second home. At recess, children of all ages kick soccer balls, climb jungle gyms, laugh and squeal, and burn off steam, just as you would see on school playgrounds anywhere else. Residents of stucco walk-up apartments nearby probably think it's part of the North Vancouver public school system and, in a way, they're correct—the North Vancouver School District still owns the land and buildings and rents the facilities back to KGMS.
Very happily, KGMS is across the street from one of Vancouver's best-loved family attractions: the spacious petting zoo of Maplewood Farm. Field trips to visit the baby goats are one perk of attending the school.
The administrators, staff, and students acknowledge that the school is located on the unceded territory of the Tsleil-Waututh (People of the Inlet) First Nation.
What is success?
"They walk in the door and they say, 'for me, success is not an option.'" For Christopher, that's the biggest hurdle these students face: a perception of unattainable success. The students are bright, despite a range of struggles and learning differences, "but they don't see themselves as bright." He says, as educators, "what if we recognized that every child has a different path to success? What if we knew that [due to] the complexities of family structure that not every night was conducive to doing homework, and that's not the student's fault? What if we understood that it's probably not a good idea to rank our kids with stars and stickers, and pep rallies, and honour rolls, [because] that creates a culture of winners and losers?" Those are the questions that form the basis of his work within the school: instead of comparing successes, he seeks to help each student judge their skills and abilities against themselves rather than others, and "to use assessment as an instructional tool, not as a judge of individual worth." Christopher wonders: "If we … as principals and teachers, looked at ourselves as coaches and advocates, rather than as judge, jury, and executioner, what a different school that might be."
In 1973, Anne Rushforth knew that the public educational system would likely always fail her son precisely because it wasn't designed with his needs in mind. She knew he, diagnosed as dyslexic, would always have trouble learning in a traditional classroom setting—that he and other children like him "learn beautifully, they just don't learn the way that school teaches … the old, book way doesn't really work too well for them."
The desire to offer an alternative was the impulse behind creating the school. She rented a baptist church basement in the Vancouver suburb of New Westminster and attracted a dozen families looking for a better way. She adapted the space to maximize student success. "The first thing we did," she recalled in 2014, "was to build each child a little office, a four-foot office, so that they wouldn't be distracted by the other children." Teachers' salaries were initially funded through a '70s era local initiatives program grant from the federal government.
Rushforth had been working as a tutor and therefore had an intimate experience of the difference that one-on-one, student-led instruction could make. "The children just bloomed whenever they were tutored," she said. "I knew these children could learn. In fact, they were more gifted than the average child. … we knew that these children didn't learn just by the visual and auditory programs that they taught in school. So all of [our instructional spaces] were multi-sensory … and all the programs were verbal with things that they could actually do."
During her involvement with the school, she said her greatest reward was seeing introverted, socially isolated children transformed into cheerful, confident kids who embraced learning. "I think we were very much ahead of the times in terms of considering the whole child," she said. "I often dreamt of [the school's success], but I never thought it would happen."
" … it's just so wonderful to come here, and to see that it has happened, and that all these children are benefitting. … The biggest success of all, I think, for me, was seeing the children's personality change. They would come in as shy children with poor self-concepts, and they would turn into bubbly, happy children that were sure of themselves, and didn't mind making mistakes—they knew that was part of it—and they just bloomed. It was wonderful."
While the school has evolved over its life—it doesn't sit at the initial property, for one thing—Rushforth's legacy is nevertheless apparent throughout. As in her day, the school addresses students who, for a range of reasons, learn best in hands-on, personalized environments in which their differences are compassionately understood. Enrolment at Kenneth Gordon has increased many-fold since its early days, and so, too, has the range of learning differences that the program addresses.
"How we think about learning and learning disabilities has changed over the years," says Christopher. "We've evolved from teaching discrete subjects and measuring academic achievement, to adopting a more personalized learning that looks at the whole child. In a sense, we're ahead of where the BC public school system has been. Now, they are moving towards individualized lesson plans and offering more flexible outcomes for some students," something for which KGMS has provided a model.
The staff at KGMS pride themselves on their ability to address a broad range of learning styles, and that pride isn't misplaced. Though the students test and exhibit above-average levels of intelligence, their challenges, as confirmed through psychological and educational testing, impair academic and social progress. "These are children who learn in unconventional ways and need significantly longer periods of time to absorb lessons and process information," Christopher explains. For many, the attention they receive here imparts a sense of worth and achievement that had eluded them prior.
On entry, an individualized education plan (IEP) is developed for each student, and it is returned to and revised, as needed, throughout the child's time at the school. Attention to their personal learning goals is supported by a dedicated, full-time faculty that includes a consulting psychologist, a speech-language therapist, and an occupational therapist. All the teachers are fully qualified and certified by the BC Ministry of Education. The tutors are Orton-Gillingham trained and certified. Christopher estimates that a quarter of the instructors have both qualifications. The hope is to get students to a place where they can re-integrate into the public school system, though that's a soft goal—many reach it, but others don't, and that's okay too. Nevertheless, the approach, while individualistic, is goal oriented, highly structured, and rigorous.
Orton-Gillingham
Developed in the 1930s at Columbia University by neurologist Dr. Samuel T. Orton and educator/psychologist Anna Gillingham, the Orton-Gillingham method was designed to allow flexibility in language instruction. It combines multi-sensory techniques that incorporate three learning pathways: auditory, kinesthetic, and visual. Per the Orton-Gillingham approach, students learn common spelling rules and the role of prefixes, suffixes, and root words. For parents of a certain age, this emphasis on grammar, spelling, parts of speech, and proper punctuation may seem familiar—it's similar, in some respects, to phonics. The most effective way to teach it is through repetition. Orton-Gillingham is at times interpreted as an approach only meant for reading remediation; however, the multi-sensory component can have a positive effect on other subjects as well. Teachers capitalize on an individual student's dominant learning style while delivering instruction that will strengthen the remaining learning pathways.
All students follow a core curriculum as well as their IEPs. Academic progression follows the usual benchmarks and co-exists with behavioural and emotional development. The faculty members who choose to make a career at KGMS do exactly that—they choose to make a career here fully cognizant that it's a very different context than is found elsewhere. In speaking with them, it is clear that they have dedicated themselves to what the school can offer, aware of the unique set of challenges that the student population can present.
The faculty members each bring their own approach to the requisite set of skills. Says Jennifer Wallis: "most teachers have an individual style that is an expression of who they are. You won't enjoy teaching here if you don't know how to share your ideas and collaborate with others. We're really here to help each and every one of these kids."
Adam Lewis came to KGMS after teaching for a number of years at Collingwood School in West Vancouver. "I was teaching high-achieving students with little to no learning challenges," he says. "I wanted to help the students who needed the most assistance." What inspires Lewis is the almost instantaneous effect that the school's learning environment has on the new students. "I've seen students who are so frustrated and unhappy with their past school experiences that they are left crying on the front steps, too afraid to walk into the school—sure that yet another failed experience is coming their way." He continues, "By the end of their first week at KGMS, they are completely shocked and wowed by the experience. Sometimes this unpacking period is a little bit longer, but rest assured, over the next couple of months most students fall in love with KGMS. A year later, that 10-year-old is now 11 and running into the school in the morning excited to share what they learned the night before."
The teachers use a co-teaching model that places two teachers in the classroom at once. Often, one teacher will be instructing a lesson not much different than you would experience at a typical elementary school; the other teacher keeps order and deals with behavioural challenges. "Many of these students are coming here with a lot of baggage," says Wallis. "They might have been known as the 'bad' kids at their old school, where the environment wasn't set up for success. We try to make them aware of how their mind and body 'feel.' If they're feeling hyperactive, we might have them take a body break … We want them to feel like they're ready to learn before we present them with information."
Wallis says that "everything changes minute to minute." She adds that these are highly distracted students who may or may not be on medication, something that can affect their behaviour depending on the time of day. "To do well, these students need structure in their lives. Many of them actually like predictability and order; it's change they find challenging."
Report cards are issued at three different intervals through the school year, and they provide details on how well the student is progressing according to the IEP and whether they are not yet meeting, approaching, meeting, or exceeding expectations for a particular subject. Assessment, as a result, is as personal as the instructional approach, and students are gauged against their goals rather than against broader measures.
A dedication to experiential learning is apparent throughout the curriculum and its delivery, and in-class instruction is augmented through field trips and outdoor education. Each year begins with a camping trip, the intention being to charge the batteries a bit while also building teamwork, community, and collaborative skills. Likewise, instruction is paired with community outreach throughout the academic year through volunteerism, job shadowing, work placements, and apprenticeships with local community partners and businesses. Past volunteer placements include those with the I hope family centre, Maplewood Farm, Adopt-a-Street Program, and Save-on-Foods' community support initiative.
Says one teacher, "we are preparing these kids for life beyond school, which might look quite different than it would for students in a traditional high school setting." As such, the curriculum is augmented with a practical life program designed to develop the skills of daily living. It includes instruction around social skills, such as communication and collaboration, as well as life skills, such as cooking and financial management.
---
Academic environment
Classroom size and composition can vary year to year. Students are grouped in age-appropriate classes, which might mean that one child is functioning at a Kindergarten level while another is at a Grade 3 level. In 2018, all five kids in Grade 1 carried an autism diagnosis. As such, the teacher noted that "lessons have to be broken up into very small blocks of time."
The school is equipped with wi-fi throughout, with ample iPads to support student learning and engagement. All classrooms that require them are equipped with Smartboards, which grant access to the full range of online resources. Laptops are shared from Kindergarten to Grade 4, and from Grade 5 onwards, each student is assigned one of their own. Computers are tools for learning, while personal computer time is also used as a reward for completing a task on time or, more likely, exhibiting and modelling empathetic behaviour and social skills. Schedules and assignments can be loaded onto a Google Documents classroom account that can be accessed from anywhere. Personal timetables and tasks are colour-coded to keep students on track.
The student-to-teacher ratio in the high school program is higher than that of the elementary level, and ranges from 12 to 18 students per teacher. Sometimes, smaller class sizes can be a challenge in terms of creating the critical mass needed for fulsome classroom discussions. In these cases, Christopher says, "we'll run video conferencing and utilize online learning forums to augment the material that's already being taught in the classroom."
The classrooms themselves are set up with a wide array of seating arrangements, furniture, and learning resources. For the most part, these are kids who can be particularly sensitive to the comfort—or discomfort—of their environment. Therefore, students are able to choose what works best for them. Some listen to their teachers while sitting on inflatable yoga balls, while others are seated on short-back stools or at traditional desks. Learning spaces include a fully equipped science lab, a creative arts centre, a music and performing arts centre, and a gymnasium. There is a range of outdoor play and instructional spaces, including areas protected by marquees, allowing students to gather outside even on rainy days.
One teacher explains, "it's our job as educators to ensure that students feel comfortable. The key to high school success is finding the right balance between a repetitive, fixed-schedule academic curriculum and a flexible environment that can accommodate a range of learning styles." Sometimes, these lessons can take place outside of classroom hours. For instance, one of the teachers hosted a Friday night drop-in session where students could bring their favourite video games to play.
A majority of the students live within a reasonable travelling distance—North and West Vancouver, Vancouver, Burnaby, and Coquitlam are the closest communities. Safe, secure bus service is provided from several drop-off points throughout the Vancouver region. There are no boarding facilities. The student body is relatively small in comparison with area elementary and secondary schools, something that serves the students and the staff well. When students arrive, they enter a close-knit environment that is particularly attuned to their academic and personal needs; the size of the school, as well as the attention of the staff, facilitates that.
The students reflect a more diverse range of learners than what is found in a traditional learning environment. "These are students who have fallen through the cracks," says Christopher. "Students who arrive here often have no place else to go … Their parents have exhausted all the resources that the public—and, it's worth noting, even the private school system—provide." The students' challenges are based in learning differences rather than cognitive deficits. The school supports learners with chronic health issues, visual and hearing impairment, and those who exhibit symptoms associated with being on the autism spectrum. The prospectus notes that "any behavioral, physical or emotional issues must be of secondary concern."
According to Christopher, one-quarter of KGMS students have been diagnosed on the autism spectrum, mostly clustered in either the younger (K to Grade 2) classes or the older ones (Grades 11 and 12). "These are students with 10 items on their to-do list on any given day, and they are lucky if they can get through one or two. Ideally, we're instilling hope and confidence in the ability of students to tackle not just academic challenges, but life itself."
KGMS students who integrate back into the public or private school systems are tracked for a year afterwards to see what progress has been made. However, Christopher points out that, beyond anecdotes, it's difficult to determine how much of a difference the KGMS experience makes. "After they've left, it's tough to take credit for more than a year; kids are constantly absorbing and retaining new information, especially from Grades 7 through 12. We have an annual reunion, where all of the kids are invited to return and catch up on everyone's progress."
Of the 15 students in the graduating class of 2017, nearly half are enrolled in post-secondary education. Others entered the workforce directly upon graduation, including roles in BC's booming building trades. One student has applied his interests in skateboarding and entrepreneurship to develop a business carving and designing skate parks. Another student successfully launched an internet business utilizing the Shopify online software platform. The confidence to go out and find their way in the world, parents say, is directly attributable to their experiences within the KGMS program.
KGMS follows the principles of universal design for learning (UDL), a flexible approach to learning that is customized for each student's needs. The school-based team consists of parents, teachers, tutors, psychologists, speech-language pathologists, and occupational therapists. As one teacher says, "sometimes, there can be as many as 12 professionals providing input into how a student's needs are being met."
Each team member bases their recommendations on the student's psycho-educational assessment, which is a mandatory part of the application process. Depending on their field of expertise, team members come to the first meeting in the autumn ready to provide input for the IEP that will become the framework for student progress throughout the year. There's a mid-year meeting that allows for changes in the plan, based upon each team member's report. The final meeting happens in the spring, and recommendations are made for the next year, when another team will be assembled to meet the student's needs. Feedback from the parents, and the student, if appropriate, is an integral part of the process.
For speech-language pathologist (SL-P) James Burden, a major focus in student development lies in what's called social thinking, a technique pioneered by noted American SL-P Michelle Garcia Winner. He says, "We dissect how underlying thoughts and associated feelings affect behaviour. Social thinking develops empathy by making students aware of how their behaviour can affect others." Teachers, counsellors, tutors, and other support staff are educated by Burden about why social thinking matters, even on the playground at lunchtime.
Children with autism, or even younger students generally, need to be taught how to self-regulate and read social cues, such as looking at someone's face and providing undivided attention when, for instance, a teacher might ask a question. Non-verbal social cues can be a challenge for many kids to interpret. On the walls of each classroom, a colour-coded chart—known as the zone of regulation—is posted. When prompted, students can describe their moods/energy levels in different colours. Green means calm and alert, which is an optimal level for classroom learning. Blue means drowsy, bored, or disengaged—a fairly common condition for younger students, especially later in the day when energy flags. Yellow means moderately excited—an enthusiasm for learning—which can lead to positive outcomes. However, students who describe themselves as being in the yellow zone can also be irritated or anxious. Red, however, indicates a high level of energy or agitation hyperactivity, where, Burden says, "the ability to think is reduced to flight, fight, or freeze. This elevated state might be something like if your favourite sports team won a big game or you just won the lottery. In an academic environment, being in the red zone is most often negative because it involves the loss of self-control in the form of tantrums or out-of-control behaviour. It's highly distractive to other students in the classroom."
In an ideal scenario, kids can actually leave the classroom to take body breaks to burn off excess energy. Some students are able to handle these out-of-classroom breaks independently, but others require adult supervision in the student services area.
Burden tracks skill improvements based on reinforcements and the ability of the students to master the social thinking concepts. "We reward positive interactions, whether it's with the teacher or their tutors or even the playground monitors." Examples of positive behaviour might include being able to follow instructions. Negative interactions are noted as well. It takes five positive outcomes to reverse one negative one. "These are real learning moments for the student," he adds.
The program works, as seen best in student success. Burden highlights the accomplishments of a student with autism who has been at KGMS since Grade 6 and is graduating from high school this year. "When he first came here, his interaction with other students was solely based on his narrow interests and needs. Since that time, his social skills development has been amazing; not just with his fellow students but with adults, too." He notes, "It's a team effort to successfully integrate social thinking into the individual lesson plans. I do my part, but I also get a lot of support from staff to help implement and measure each student's progress." Still, the teachers and support staff don't try to transform these children into something they're not. "Autism is a part of who they are. We make it easier to understand the social world around them," he says.
Understanding is what many parents prize most about their interactions with the school. Jodi Beattie, a local parent, says, "Our journey to KGMS was probably quite typical. Our autistic son attended the neighbourhood public school and was assigned a full-time aide whom he shared with other kids from time to time. The aide was fabulous, but with each passing elementary year, the gap between his social and academic experience widened compared to his peers. And most importantly, our goal for Patrick was always 'happy, healthy child.' He had no social engagement in public school and hated the challenge of the academics, so each day was such a chore for him; he'd come home exhausted. I believed there were no limits to his potential if we just found the right environment."
She continues: "I toured many facilities close to Vancouver … Some could address the learning disabilities, but not handle his social/emotional needs. Others exclusively addressed social and emotional needs, but academically, he would probably never graduate from high school with a Dogwood Diploma."
Transferring to a new school, and in some cases an entirely new community, can cause tremendous upheaval. It's a time of fear for many parents—figuring out how the kids are going to get to school, the stress of leaving old friends behind and making new ones, not to mention the fact that most students have just enjoyed a two-month summer break. Beattie says, "The first weeks were harder for me than Patrick. Because Patrick has autism, I was worried about the magnitude of the change associated with a new school, and they do not offer one-on-one aide support, so that was going to be different for him."
One key difference between KGMS and other schools is that full-time student aides are not in attendance in the classroom. Though the student-to-teacher ratio is very low, students must learn the necessary skills to cooperate and get along with others. "He'd have to learn to be far more independent than he was in public school," says Beattie. "I tell a lot of people that I basically held my breath from September until November, waiting, watching, hoping that it would be a good move. To be honest, we saw a difference in Patrick by the end of October. He felt so valued as a person at KGMS and started to believe he had the ability to accomplish anything, but with the understanding that he learns differently."
Beattie explains how staff at the school created a couple of "clubs" that they thought would interest him and provide more engagement outside of the classroom. "With staff support, he started connecting with other students, so he had a bit of a social experience. His anxiety around being different than his peers started to dissolve, because at KGMS, everybody is different! We noticed that, as soon as his stress and anxiety were gone, his academics started to improve. It was an amazing transition to watch, and it totally met our goal of 'happy, healthy child.'"
KGMS has a full-time applied behavioural analysis (ABA) therapist on staff. In an educational context, behavioural analysis essentially seeks to understand how learning takes place, and offers a wide range of therapeutic strategies to create positive outcomes in autistic children. ABA seeks to reduce or eliminate distractions and roadblocks which get in the way of learning. For students prone to confused and sometimes angry outbursts and anti-social actions, ABA therapy rewards good behaviour through repetition and creates patterns for long-term change.
For many students, it's the daily one-on-one tutoring that makes all the difference and breeds success. Each day, each student receives 45 minutes of counselling and academic assistance. These tutoring sessions involve all aspects of the individualized education plan. As one student exclaims on the school's website, "my tutor is my best friend."
KGMS was the first independent school in western Canada to specialize in teaching kids with learning differences, and much has changed in the four decades since its inception, especially around how the educational and medical establishment views cognitive challenges. Admission to KGMS is subject to the submission of an up-to-date psycho-educational assessment that indicates a language-based learning disability, or other supporting documentation indicating other learning challenges including, but not limited to, chronic health, visual or hearing impairments, or autism spectrum disorder.
Most importantly, the testing must show that the primary impediments to the student's learning process are learning differences. Any behavioural, physical, or emotional issues must be of secondary concern. The BC government provides guidelines for designation of a learning disability.
A mandatory in-person meeting with the head of school is required to be considered for admission. Parents considering KGMS can bring their child in and spend a day 'shadowing' the teachers and classes. One parent says, "My husband has experienced the challenges of dyslexia first hand. When he came here, he immediately appreciated that the whole place is set up to support learning differences, rather than pushing kids into a mould of one educational pathway."
Parents inspecting KGMS marvel at how much bigger a classroom feels when it's not overcrowded with a half-dozen or more students than it can comfortably accommodate. The hallways even seem spacious when the kids come back from their lunch break. There's plenty of laughter and chatter, but none of the tension and claustrophobia you get when hundreds of kids spill into a narrow corridor all at once. Teacher Adam Lewis says: "It is not uncommon when students from other schools join one of our classrooms, turn to their mom or dad at pick-up time, and immediately ask if they can switch right then and there."
There are fees associated with application, and a deposit is required on acceptance. Tuition is strikingly reasonable, something that is a point of pride within the school. The intention is to make the program available and accessible to those who need it. As such, fees are kept to a minimum and, thanks to provincial grants and fundraising, are below the cost of instruction. Tuition is payable in monthly installments.
KGMS is financed through a combination of provincial government grants, tuition fees, and fundraising initiatives. Tuition for 2018/2019 was pegged at $23,950 per year (K to Grade 7). A new student registration charge of $6,390 is assessed and includes two months' tuition ($4,790) and $1,600 in additional fees (admission fee: $750, volunteer commitment deposit: $400, school supplies: $250, and a technology fee: $200).
Parents, for their part, are unfailing in their praise. One parent opines: "If you are considering KGMS, then you have already done your homework and know that your child's needs are not being met elsewhere. Take the leap and enrol your child. The support, genuine caring, and learning that you and your child will receive here will be life-changing."
The support staff—everyone from an on-site ABA therapist to the tutors and learning assistance teachers—view education as a partnership between the school, the student, and the parents. Christopher has a welcome and unabating devotion to the parents who send their kids to KGMS. One parent says, "Jim is thoroughly invested in those kids; he's a 'yes' man. If there's something that will help a student or enhance a program, he says yes and then figures out how to make it work financially and within the structure of the day."
Another parent says, "I have a very close friend who enrolled her son in KGMS because of my experience—I shout its praises from the hilltop on a regular basis. I would say if you have a child who's struggling socially/emotionally and falling behind academically, you must walk through the doors and check out KGMS. Some students benefit from two or three years of instruction and then seamlessly transition back into the public system. Others, like my son, will graduate from KGMS because it's just the right fit for him. It's such an inclusive environment and differences [in learning] are just part of the package for every student, which immediately makes them a little bit 'the same.'"
Alumni return to the school from time to time, in some cases to share their experiences after graduation. "Last year, she came back and did a school-wide presentation on her first year at Simon Fraser," a teacher told us of a student who graduated recently. "It was very inspiring to see how well she had done despite some significant learning challenges."
Christopher describes Kenneth Gordon Maplewood as "a school of second choice." "For the most part, parents and students aren't here because they want to be here," he says. "They're here because they feel they have to be here." That said, he is quick to add that "once you walk in our front door, you won't want to leave."
"The fact of the matter is," says Christopher, "these are all bright kids, but they don't see themselves as bright. They don't see themselves as learners." Families arrive often not knowing quite where to turn, and looking for an option that will not only support their learner, but also ease some of the challenges they've been experiencing at home.
As with the best schools, the intention is to allow them to realize the true extent of their abilities, and to gain an understanding of their talents and what they can bring to the table. Not all who attend KGMS return to school in a public or private setting. But when they think they're ready, the staff at KGMS will create a comprehensive plan for re-entry. One parent says, "Once our daughter finished Grade 8, she knew that she wanted to try the public system again. She's at a good school with smaller class sizes, but it's still a huge transition. There's a lot more homework in the public system and she can still be a bit shy. But at her new school, she was able to even give a classroom presentation on how she overcame her learning challenges to become a voracious reader. She honestly couldn't have been prepared better for entering high school."
Certainly, KGMS is unique, something that the students and families who attend are grateful for. Instruction is empathic, as is the entire environment of the school. The students who enrol enter a community of peers, one comprising students and staff who get them, who share their struggles, and who can relate to their perspectives on the world. "I have friends who like me for who I am," said Theresa MacIntyre when she was a student in 2014. Her voice breaking, she added: "I feel like I'm wanted here."
Photography provided by Kenneth Gordon Maplewood School.