Educators Kelly Gallagher-Mackay and Nancy Steinhauser have written that "great schools represent the potential for a more just society and an enriched childhood for every child. They can be engines of universal equality, foundations for strong communities, and vehicles for individual self-definition and advancement." Great schools are places that will shape and raise expectations, and embrace the complications of families. They build on the students' strengths, talents, and predilections—working from their assets, rather than their deficits.
The academic program at Meadowridge is based very firmly in that perspective: everyone has gifts, relationships build a community, and curiosity is the seed of learning. Says Burke: "One of the reasons that we have children go outside a lot is that it is good for them right now. And they have fun." They also experience their world viscerally, intuitively, as messy as it might be. Perhaps most importantly, they begin to formulate a link to the natural world as well as the social world. "We need to understand why water should be clean, where fish come from, how plants grow," says Burke. "And through an understanding of interdependence with others, they will learn that how we look after the earth matters."
The development of compassion, stewardship, and an understanding of interdependence is as much a part of the academic program as literacy and numeracy. Instruction is inquiry-based, engineered to ensure that students see the personal relevance and connectedness of what they're learning. "It's much more than just academics," says Kristal Bereza, principal of the High School. "It's developing confidence, an ability to critically think about things, to be engaged in the world. They move toward a self-awareness … there's a culture that's created here that helps them achieve that."
There's a nice flexibility in how inquiry and experience are applied within the core disciplines. Rote learning, for example, is understood to have a place, as does lecture-style, didactic instruction. Says Bereza: "it's about learning the content, but then being able to take it within yourself and analyze it, [so that] it becomes a part of your thinking system." This is a belief that applying mathematic principles to real-world problems works best when the basics are in hand, such as a facility with the multiplication tables. That kind of mechanical skill development—as well as small-group learning, focused listening, and project-based collaboration—is seen as a tool that has a valuable place within a substantive academic toolkit. "We're recognizing that education is lifelong," says Terry Donaldson, director of teaching and learning. "That today is one piece of that lifelong journey. And that everything cumulatively adds up to a person, rather than adding up to an engineer, or a doctor. Life experiences are critically important."
The academic program is intentionally challenging at all levels. "In that," says Bereza, "I would say that it challenges each individual for their best. It's not just about getting the highest marks. It makes you study in areas that may not be your strengths." As an example, she cites the requirement that all students take a second language all the way to Grade 12 in order to graduate from Meadowridge, whereas it's only required until Grade 9 in the public system. "They're not just able to take the subjects that are the easiest for them, or [that they're the] most gifted in." She notes that the programming has been developed in order to ensure that students aren't able to avoid the areas they struggle in, but instead are required to face them. "I think that develops a resilience in our kids, a kind of go-after-it-ness."
"If they don't experience some kind of failure," says Banack, "then we haven't done our job. Kids learn far more when they fail than when they just kind of cruise through. So it's about providing those opportunities for the kids to really stretch themselves. … [Putting] them in those challenging situations, with a high degree of support, allows the kids to achieve their best and build confidence."
"We're going to stretch comfort zones in all different areas," says Banack, "and that's part of the IB as well." Students spend as much time in arts as they do in math and phys-ed; there's an engagement in service and an engagement in creativity. That balance is a component of the IB, though it extends what was happening at the school prior to its adoption. The faculty believe that it's not good enough to just be really strong in any one area, and they understand that families demand that kind of breadth of instruction. Burke speaks regularly of engaging the head, heart, and hands equally. "That is certainly a lived philosophy at our school," says Banack, "so there's an emotional attachment, an intellectual attachment, and a physiological aspect through the physical motion of doing something. It makes learning much more profound."
"Certainly there's no single pedagogy that you can use in all areas," says Banack, though he's careful to offer an important caveat. "To suggest that our classes are only ever inquiry based would be inaccurate … but we believe that kids learn best when they do stuff. And that's why we have all these Classroom Without Walls programs, and science labs and design labs, where kids get their hands dirty, and they build things."
The faculty largely leads from behind, providing mentorship, direction, and support. They allow the students to drive their learning as much as possible within the context and the demands of the curriculum. Says Banack "The idea is that kids are able to collaborate around any kind of content [when] you teach them the skill of collaboration: how do you listen, how do you voice an opinion of dissention, how do you share that without bringing a bunch of emotion into things."
The school works diligently to ensure that all learning is relevant, and that students themselves are always aware of its relevance to their personal aspirations and their lives outside of the school. "Once our kids have knowledge and skills, we want them to do something with that," says Donaldson. "Action is an important part. We're really an outward-looking curriculum, looking beyond our school to the communities." That's a function of the IB, and one of the reasons why the IB was seen as a good fit for the programs that existed here prior to adoption.
There is a greater amount of international experience at Meadowridge than you'd expect for a day school—faculty and students represent more than 30 countries —and that's partially a function of the IB in consort with the school's overall mission. Teachers are given dispensation to work overseas and experience the IB in other settings. Alan Graveson, post-secondary counsellor, was hired in 1991 and has since taught in London, England; Brisbane, Australia; and Shanghai, China. Another teacher has experience teaching at international schools in Romania and Kuwait. Banack has taught in Turkey, the Philippines, and Venezuela. Willms arrived after having taught in an IB school in Thailand. Where some schools might have disparaged overseas experience, Meadowridge is different. "Applying here," says Willms, "Terry Donaldson was just celebrating that I was coming from an international school, which was great, because the two years I spent in Thailand was some of the best professional development I've had." Hiring has been conducted not necessarily to augment international perspectives, but to add to a diversity of approach with a preference for candidates who bring substantive experience with the IB curriculum.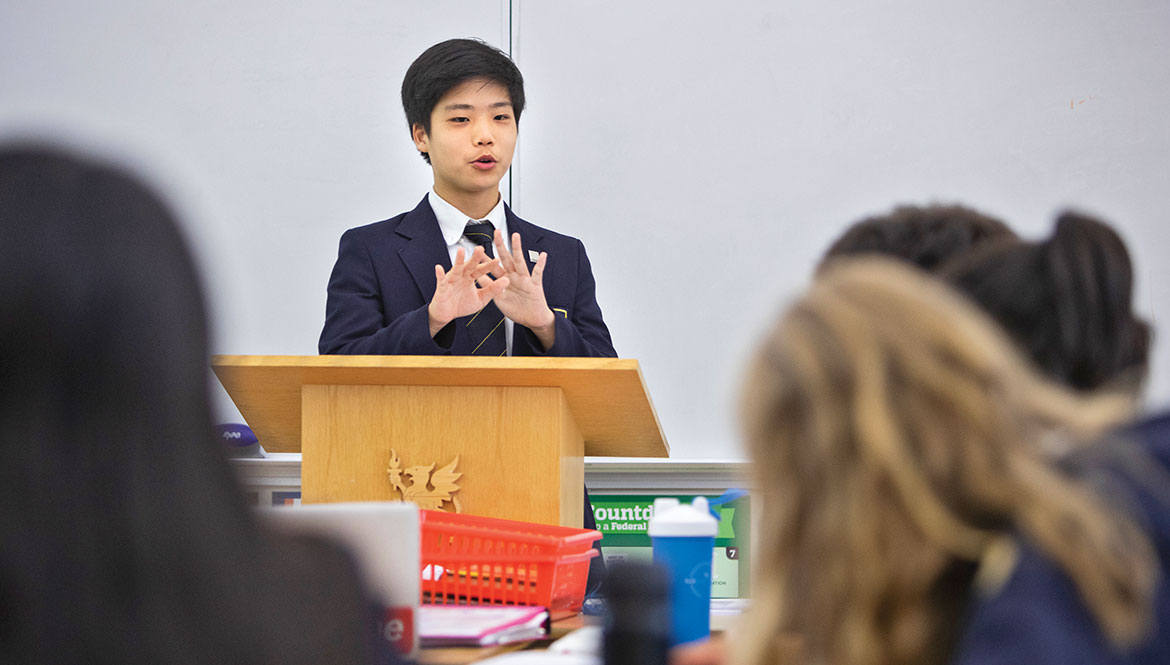 ---
The International Baccalaureate
The International Baccalaureate (IB) was founded in Geneva, Switzerland, in 1968. Given the spirit of the time, coupled with an exponential growth in air traffic, there was a budding awareness that students would increasingly live in a multinational, multicultural world, with professional and personal lives that existed across borders and cultural boundaries. Likewise, it was surmised that communities of interest would develop independent of the local communities that students lived within—the community of physicists, for example, would be a global one, rather than associated with specific local institutional communities.
It was out of that ethos that the IB was born. It would offer a diploma that was as mobile as the students who would earn it, and it would be recognized readily by universities around the world. While rigour was important—students with the IB could be counted on to have a strong basis in language, math, and science—so was the kind of learner that the IB could develop. In addition to the core curriculum, students would be required to gain a meaningful sense of global issues, economy, geography, and culture. They would be required to learn the fundamentals of communication, creative problem solving, ethical leadership, and international politics. They would work and think across disciplines, applying math concepts to social economies, and science concepts to, say, community development. As such, the IB was, in a sense, at the leading edge of the development of what we now think of as 21st-century literacies.
Not all schools adopt the IB for the same reasons. For some, the attraction is to an internationally recognized curriculum, or university recognition. Those things are important attributes, though the draw for Meadowridge was how well the academic profile overlapped with what was already happening within the program: transdisciplinary, inquiry-based, value-driven, experiential learning centred on play in the primary and middle grades. As such, the transition to an IB Continuum World School was seen as an absolutely natural one to the degree that it supported and augmented the founding mission. Meadowridge earned its accreditation for the IB Primary Years Program (PYP) and the Middle Years Program (MYP) in 2007. With the addition of the Diploma Program in 2012, it became one of the first schools in the region to offer the full continuum. To date, there are only eight schools in British Columbia with the full continuum offering, making the IB a draw for many of the families that enrol at Meadowridge.
---
"The Learner Profile encapsulates those characteristics that we want to develop in order to prepare our children for an uncertain global future."
---
Experiential and outdoor education
"The three Es are for Experiential, Ecological Education," says James Willms, the outdoor experiential ecological education (OE3) coordinator. Meeting him, it's clear why Willms was chosen to lead the program—he's the embodiment of what OE3 was designed to promote: equal parts active living, stewardship, and creative engagement with the curriculum. The day we visited, he was preparing to take the Grade 3 students out for a mindfulness program based on the Japanese concept of shinrin-yoku, which roughly translates as "forest bathing." "I reflect on my childhood, and I had a lot of time outside, and that was my freedom," says Willms. "I just loved to roam, and I was afforded that. And so now we're trying to create opportunities where we can afford that to our students, to allow them to be free and explore."
In the early grades, the first part of the year is devoted to simply getting to know the forest, getting to know the space. Students go out into the environment at least twice a week, and it can be as simple as exploring sit spots: finding their space in the forest where they can just sit, reflect, and be calm. "It's amazing to see. There is a range of kids who are really comfortable outside, and there are others that still don't want to venture off the trail. It's beautiful to see the challenge by choice," Willms says. There is a range of learning promoted within the various activities. Hiding games within the forested areas of the property build confidence, though they also offer some very pointed experiences, as Willms notes. "It's those moments in hiding when a child feels that anticipation, but then they're getting smells from the earth beneath." Back in the classrooms, the students don't reflect on who won the game so much as they debrief the sensory experiences they had while they were involved within it.
Willms admits that a more typical approach to outdoor education—and the one that families perhaps think of first—is adventure, and there are certainly aspects of that included at all levels of instruction at Meadowridge. All children, even the very youngest, have at least one substantive outdoor adventure experience each term. In Grade 3, they start taking overnight trips, including one to Timberline Ranch in Maple Ridge; in Grade 4, they go to Sasamat Lake within Belcarra Regional Park in Port Moody; in Grade 5, students spend two nights at Camp Jubilee, which is up the Indian Arm. A capstone trip in Grade 10 is a five-day, four-night canoe trip, paddling up the Indian Arm in voyageur canoes. All the trips build students' outdoor skills, and the program is designed to develop abilities and comfort levels incrementally over the years that they attend the school.
Still, the intention is to deliver more than just adventure, including an introduction to both the natural and cultural heritage of the region. In May 2018, the Grade 8 class went out to Qualicum Bay to do some caving and connect with the Qualicum First Nation. "They had a traditional salmon bake; some elders came down and shared stories with the kids," says Willms. "I felt it was as authentic as a meeting with First Peoples could possibly be."
He raises the example in order to give a sense of what he feels outdoor education really needs to accomplish. Caving, yes, but also social development. Outdoor activity, yes, but also curricular development. Curriculum integration is what Willms is particularly tasked to do: connecting with teachers and collaborating with them to develop unique learning experiences. "There's so many things coming at our students, like climate change, clean water, food scarcity, and all these issues that are intimately tied to the natural world that we all share and depend upon," he explains. However, faculty were finding that, while students were being asked to care for those issues and challenges, they were doing it because they were told it was important, not out of an intrinsic sense of care.
At Meadowridge, there are ample age-appropriate, curriculum-driven opportunities for students to build a meaningful relationship with what they're being asked to care for. "Instead of having that siloed time—'okay, we're going to have outdoor time now, and then we're going to do math and science'—we're going to do math and science outside." This way, students get exploration and experience while meeting curricular outcomes.
For early learners, that could be walking through trails looking for patterns. "Salmonberry bush leaves grow in threes, so they see that this is one of the patterns that can be used to identify the bush," Willms explains. Back in the classroom, they may be asked to landmark where they saw the various patterns and to think about the larger patterns that they reflect. In turn, they engage meaningfully with mapping skills and learn the names of local species and habitat. The tasks grow with the students, leading to surveying, stewardship projects, and using trigonometry to measure the heights of trees in the high-school grades. Adds Willms, "It's meeting the outdoor experience without adding anything new. It's just changing the venue."
Donaldson felt that, of all the spaces on the campus, the North Forest is most symbolic of the school's culture. "It's representative of what we believe is important and where we want to go." That's reflected in the development of the area itself. It includes a campground and a fire circle. The day we visited, the Kindergarten kids and their Grade 12 buddies (affectionately called Kinderbuddies) met there to have hot chocolate; the space was being used actively even prior to formal completion. The space needed some picnic tables, but instead of purchasing them, Willms collaborated with the Grade 10 math teacher for the class to design and construct some, with lumber donated by a family. "We'll meet the measurement and some of the trigonometry curriculum requirements, the outcomes that he needs. [And] we get tables for the campground, and kids get to have tools in their hands. So it's interdisciplinary."
It's hard not to be moved by that kind of thing. It's also telling that Willms and others, while somewhat proud of the programs, don't see them as remarkable necessarily. Rather, they are seen as reflective of what the school has done and what it wants to offer the students. Teachers across the disciplines are demonstrably on board. A Grade 12 student who has been at the school since Junior Kindergarten explains: "in the younger grades, if it's a nice day, it's up to the teachers if they want to do a class outside, if they can make that work. But it did happen quite a lot." Says another: "when I was in Grade 3, we had a little garden, and we'd go out and dig in the flower beds and plant." Another told us how they built trebuchets and launched metal balls, which was a high point, perhaps understandably. "We built castles out of popsicle sticks in the previous unit, so we destroyed those." Fun.
---
Learning beyond the classroom
The Classroom Without Walls (CWOW) program is a touchstone of Meadowridge's overall school culture and its dedication to experiential learning. It was developed in part to give more structure and substance to field trips, and to bring more relevance to the curriculum.
CWOW events happen once a month, and they are an opportunity for instructors to plan unique activities, projects, labs, and explorations. For example, the investigation around why salmon weren't returning to Latimer Creek (the creek that abuts the campus) was handled largely through CWOW programming. A full day was scheduled for the investigation, which was informed by a short documentary and a visit to a local fish hatchery. Students learned what to look for to determine the health of a stream, and then applied that learning to their investigation of the creek. On campus, they did water testing and surveyed the various problems associated with the waterway, including the accumulation of garbage around a culvert, lower water levels, and a steep drop, all of which were the result of road development.
---
Week Without Walls
The Week Without Walls (WWOW) is a related program that has many of the same goals. There are two of them, one in September and one at the end of May. The September week is focused on outdoor recreation, providing an opportunity for students to bond and build relationships to start the year. All trips feed off the energy of shared effort. The students also learn about the local geography, ecology, and natural and social history.