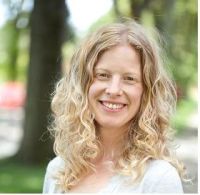 Laurie Mossop, Director and Founder
I founded Monkey See Monkey Do Montessori in 2007 because I wanted to give back to my community. I grew up in Vancouver, attended UBC, and did my AMI Montessori teacher training in Vancouver. After working at a few other schools, both in Vancouver and abroad, I felt that I could make a positive contribution to families here by creating a new Montessori preschool and kindergarten.
I wanted to create a school where Montessori is practiced in a traditional way i.e. where the classroom environment is calm and conducive to learning and where children constantly interact with one another, explore, and have fun. I wanted to create a friendly and peaceful environment where children know each other well and are known by the adults who care for them. I wanted to help children find that perfect balance between being respectful of others while at the same time being self-expressed and following their own impulses and interests. Finally I wanted to create a program with the classical Montessori elements but also enriched by outdoor play and physical education as I believe these things to be so critical to children's healthy development.
Every time I enter the classroom, I see evidence of cooperation, enjoyment, engagement, and cognitive growth in the children. I also see the patient and skillful guidance which my staff members provide to the chidlren in their care. I feel proud of the students and proud of what my staff members, parent community, and I have built over the years. Now, my own daughter attends the school and my son will start as soon as he's 2.5.
Feel free to make an appointment to watch the classroom in action and see whether the school would be a good fit for you and your family. I'm always available to discuss the program in more detail with you.