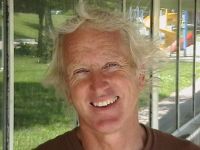 Michael Heaton, Head of School
When you are passionate about something that you consider vital, every day is so important for advancing your quest. For students in High School, this is particularly true. Each and every day becomes a part of the network that allows for the achievement of a goal. It could be as simple as solving a puzzling quadratic equation, or as complex as solving the future energy crisis. But every day provides the opportunity to move closer to solving that problem on a very personal level. Take a day off, and the opportunity starts to slip away.

With the number of private schools to select from, all of them geared to offering the best possible opportunities for such learning, how could a place miles away from anywhere provide an advantage in maintaining focus on something vital?

Days off don't happen here, so giving opportunities the chance to slip away just cannot happen. The distractions so common for other locations don't exist here. The ability to focus on what's important becomes part of the lifestyle. And it doesn't hurt that living here is so ideal. Partly that was by design: ensuring that the facilities from the former Quetico Centre were brought back to life and put to strategic use as a place of learning by teachers passionate about guiding young people. But partly is was a gift: the place is just so darn beautiful that you can't help but be excited about the place.

Quetico College School represents the fulfillment of dreams for many. For myself, it represents the chance to draw on experiences that include a teaching career at private schools in Canada and abroad, augmented with action sports like whitewater kayaking and BMXing, supported by many years in the film production and sports management business and topped with a love of the outdoors and the Quetico region. Other staff members are drawn to Quetico for a variety of reasons, but all are teachers dedicated to their profession and the positive role that private boarding schools have had on so many lives and all revered by the wilderness and the unique position that this school has to affect the lives of our future. Quetico College School is ready to fulfill the dreams of many more: hopefully yours.

I do hope that you'll consider Quetico College School. It's a bit of a drive, but it sure is worth it and we'd appreciate the opportunity to show you around and share our excitement.