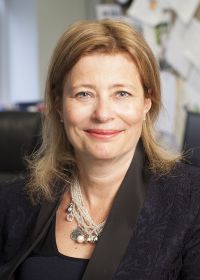 Claire Sumerlus , Head of School
Welcome to RHA!
I want to introduce you to a school that is different from any other. It is a school that is at the cutting-edge of academic innovation. It is a school that has as an entirely unique community. And it is a school that is committed to building the character of each and every one of our students. It is no wonder that RHA is the first Jewish day school in Toronto to be a candidate for the Canadian Accredited Independent Schools (CAIS) — the gold standard in educational excellence.

Our ultimate goal is to produce graduates who are original thinkers and principled leaders. That is why our curriculum is based on a pedagogy of critical thinking. Students are taught not just fact and figures, but sophisticated methods of assessing, evaluating, and critiquing knowledge. They are taught to explore, debate and solve problems equally in secular and Judaic studies. They are equipped with the tools they need to thrive in an increasingly complex and global world: independent and inquisitive thinking, collaboration and creativity, resilience and perseverance. They are given the breadth and depth of knowledge — in English and Hebrew, in math and sciences, in bible study and Jewish history, in the arts and in technology — to innovate and excel.

But no matter how rigorous our education, we are a school that nurtures and cares for our students, and for our families. There is a special warmth here at RHA which you just can't find anywhere else. We're a school where everyone knows each other's names. We have built buddy systems, diversity programs and leadership initiatives right into our culture. We rally together when a family needs help, and we gather together to celebrate a simcha. It's just who we are.

Because our kids feel challenged and cared for all at the same time, they grow into exceptional teens and young adults who know how to stand up for what's right, and speak up against what's wrong. They become people who have a special relationship with Judaism that is based on a celebration of life, a love of learning, the power to make choices, and of course, Tikkun Olam — repairing the world as caring and concerned citizens. They gain the qualities of character — empathy, compassion, and gratitude — that enables to them lead their lives with purpose, focus and integrity.

Since we began more than 50 years ago, our graduates have become globally renowned entrepreneurs and executives, judges and scientists, writers, athletes and inventors. As importantly, they have become leaders in Jewish life throughout the world. We expect no less from our students. As we develop their intellect and foster their emotional intelligence, we watch as our children become empowered learners with the life-long character to succeed across all measures.

Please visit us. We want to get to know you.