Braemar House School

ADMISSIONS

Private schools in Canada have admissions policies, and they require application materials. These may include letters of application, application fees, essays, and tests (such as the SSAT). Many schools also require interviews with prospective students. Schools also use different criteria for evaluating student applications, have different acceptance rates, and target different kinds of students. To improve your child's chances of acceptance, find out everything you can about a school's admissions policies and how they assess applicants.
Upcoming Events & Deadlines
Jan 31, 2024
10:00 am to 04:30 pm
OPEN HOUSE
Braemar House School Open House
Braemar House School

36 Baxter Street

Brantford

,

Ontario

,

N3R 2V8
RSVP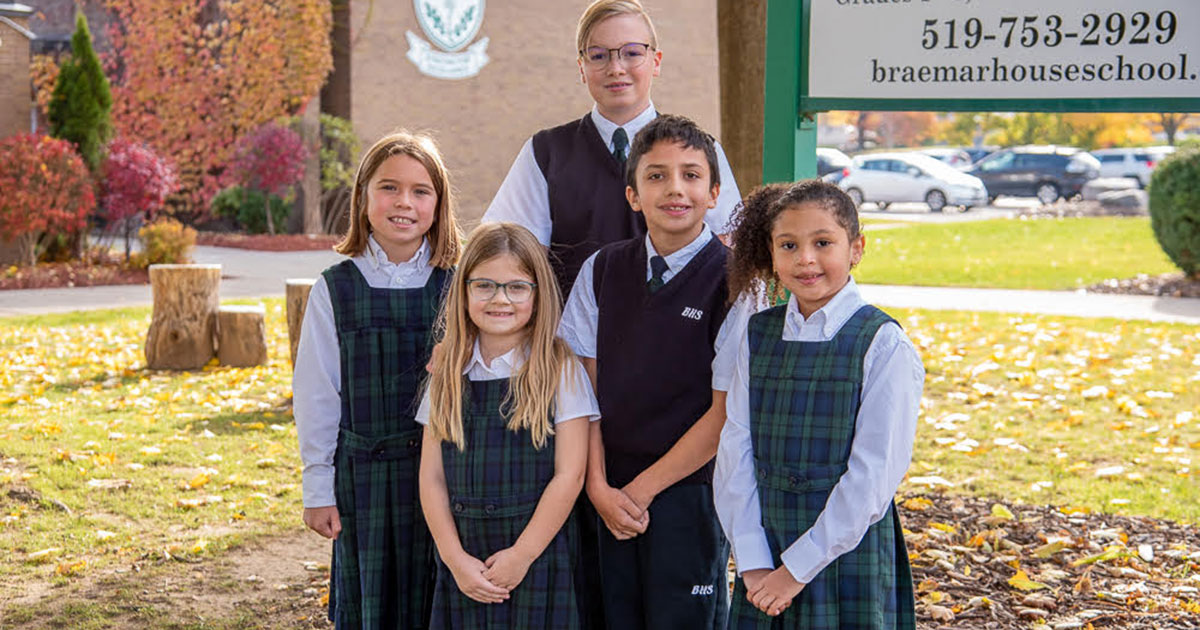 The school emphasizes a balanced education, combining strong academics with character-building through programs like the Citizenship Program and the Virtues Project. Ideal for students excelling in their peer groups, the school offers a dynamic educational environment.
You're invited to visit the school, meet the Executive Director, students, and parents, and learn more about the school's programs.
Braemar House School will host another open house on February 1, from 10:00 a.m. to 4:30 p.m.
Appointment is required. Book your spot now.
Admissions Requirements
| Assessment | Required | Grades |
| --- | --- | --- |
| Interview | | PS - 8 |
| SSAT | | |
| SSAT (out of province) | | |
| Entrance Exam(s) | | |
| Entrance Essay | | |
Braemar House School admissions deadlines and fees
Day students: Rolling
Offer mid-year entry: Yes
Application fee: $100
Registration fee: N/A
Deposit: N/A
What Braemar House School says about their admissions requirements:
The Admission Policy of Braemar House School is based on a desire to successfully deliver an enriched academic experience for our students.
Admission Steps:
The parent begins the procedure by submitting the application form with a deposit of $100.00 and a copy of the child's last report card along with any psychological or educational testing done with the child in the previous two years.

Parental consent will be requested to conduct reference checks with the child's previous school and Principal/Teacher.

The child will be invited to spend a minimum of two full days in an age appropriate class so that Braemar can observe how the child functions in the class setting. We recognize that some newcomers are likely to feel inhibited or anxious in an unfamiliar group setting; the intent of the observation period is to assess the ability of the child to interact successfully with teachers and peers, with the maturity required to participate in a program which has an academic focus.

Information gathered from the Observation Days, the teaching staff, and the child's previous school is presented to the Education Committee and then the Board of Directors for review and approval.
Note- for those students accepted during the summer months without a classroom observation, the letter of acceptance accompanying the contract shall clearly state the policy regarding a defined probationary period in September at Braemar House School.
Acceptance
Learn about the percentage of students typically accepted into Braemar House School. This can help you gauge your chances of getting into this school. For instance, a 95% acceptance rate means a school is relatively easy to get into, while a 10% acceptance rate means it will be difficult to get into.
Braemar House School acceptance rate: N/A
Braemar House School student entry points
Schools accept different numbers of students at different grade levels. Learn how many students are accepted into Braemar House School at each grade level.
Student Type
PS
JK
SK
1
2
3
4
5
6
7
8
Day Acceptance
(Acceptance rate)
0
0
0
0
0
0
0
0
0
0
0
What type of student Braemar House School is looking for:
Given the school's high academic expectations, children must be willing learners who are able to meet the demands of the school's academic programming, with behaviours and attitudes that won't disrupt the learning of others, and will influence the classroom and school community in a positive and virtuous manner.
---
THE OUR KIDS REPORT: Braemar House School
Next steps to continue your research: