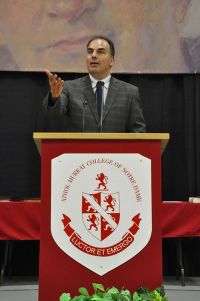 Rob Palmarin, President
"Come on kid, let me tell you what it means to be a Notre Dame Hound." If one could picture Father Athol Murray walking down the main street of Wilcox (Saskatchewan), one can easily envision Pere approaching a young student in a gruff, but warm, fatherly tone welcoming the new student to Notre Dame College.
Father Murray left this earth in 1975 but the Notre Dame that he built, along with the Sisters of Charity of St. Louis, remains with us to this day as it has since its inception in 1920.

Although rooted in the Catholic tradition, Notre Dame is open to students of all faiths. Athol Murray College of Notre Dame puts a strong emphasis on delivering an education and character formation based on the beliefs and principles of Christian humanism. We offer a balanced approach to student development in three keys areas: mind, the body, and the spirit.

Rob Palmarin, B. Ed., M.A.
President
Athol Murray College of Notre Dame