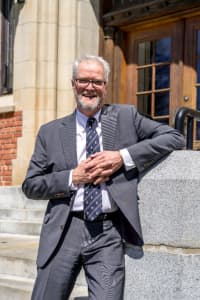 Mr. Tyler Lewis, Head of School
We're justifiably proud of our 178-year tradition of excellence in providing high school level education for day students and boarders. We're equally proud of the bilingual, multicultural community of learning that we create each year, with more than 240 students coming to our campus from across Canada and from 34 countries. We work hard to ensure that the young people who attend BCS have all the opportunities and the support they need for a successful learning experience.
We focus on giving the teenagers who study with us a balanced life in a challenging academic environment with a wide range of facilities and coaches for team and individual sports. As well, music and drama programmes allow our students to explore those aspects of their potential. We also encourage our students to be part of the wider community – volunteering, enjoying the outdoor beauty of the Eastern Townships where we are located, and traveling the world.
We'd welcome the chance to talk more about what a BCS education can do for your son or daughter, so call, send us an email, or visit our beautiful campus for a guided tour.
Tyler Lewis
Head of School