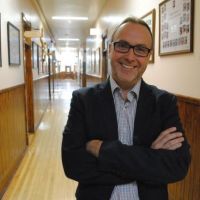 Benoit Hélie, Principal
As parents, you probably want the best education for your child. You are possibly looking for excellence. But how do we define excellence in education? Is excellence selecting only the best students and then simply accompany them until graduation. What is the role of the school in this case? What is the purpose of being a professional educator if the student would have succeeded anyway by himself? At Rivier College, we define excellence in another way.

Each child entering Rivier is unique and has strengths and weaknesses. Due to the exceptional support we offer and thanks to the dynamism and creativity of our staff, each student is guided to heights he dared not dream to achieve. We force each student to leave his comfort zone and to break down the limits he has often imposed himself. Using his strengths, we are working with him to eliminate his weaknesses so that he realizes that everything is possible with will, hard work and good guidance.

Rivier College has over 145 years of experience in fulfilling this educational mission. Like you, we want him to discover and develop his passions, open himself to the world and thrive to succeed in every aspect of his life. The education that we provide has led women and men from all sources to exceptional careers and lives filled with happiness.
In the environment of a small school, a personalized approach gives a framework suitable for everyone, promoting transcendence. Rivier College, is above all a family, an educational institution where everyone simply feels at home.

I hope you enjoy visiting our Website and do not hesitate to contact us if questions remain unanswered.