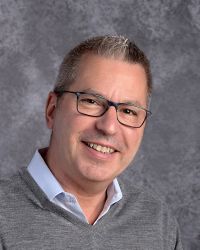 Brian Lamb, Head of School
We, at Joan of Arc Academy, are very proud of our heritage, our strong commitment to academic excellence and our environment in which all aspects of our students' development – intellectual, physical, social, spiritual, moral and cultural – are nurtured.
The Academy believes that:
Students rise to the academic and behavioural standards that the educational environment sets;
Students gain confidence when rising to standards that challenge them;
As students develop this self-confidence, their desire to learn grows;
Students learn by example;
Physical activities are an integral part of a balanced, academically-enriched program; and
Students flourish in a caring and secure atmosphere.


Fundamental to the philosophy of Joan of Arc Academy is the belief that education is not solely the Academy's responsibility; it is shared with parents and guardians, who are encouraged to participate in school events and in their daughters' educations. Parents have become well integrated into the fabric of our school, whether they are involved in coaching sports teams, leading the chess club, building our ice rink, growing our pumpkin patch, or participating on committees.The benefits derived from a Joan of Arc education are numerous. The girls-only environment, small class sizes, nurturing setting, accelerated and enriched programming, and seamless after-school program are just some of the many features our students enjoy. The quality of the Joan of Arc education is highlighted year after year as our graduating grade eight students are accepted to the high schools of their choice and offered significant scholarships.
Joan of Arc Academy will give your daughter a "passport to the world" because it is bilingual, multi-cultural and ecumenical. Joan of Arc's Catholic history has evolved as Canada has evolved. Today in religion class, students learn about world religions, the meaning of friendship and good citizenship, anti-bullying strategies, self-image and constructive problem solving.
I hope that while navigating our website, you will note the warm and purposeful atmosphere that characterizes our school and makes it so special.
I look forward to meeting you and your daughter and welcoming you to our unique school.
Brian Lamb
Head of School