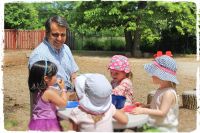 Gino Falcitelli, Head of School
La Villa Montessori School came to fruition after years of imagining what the ideal environment would be like for our own children. Delta Conchas and myself had a strong vision that became a reality when meeting at a Montessori Conference in Toronto and discussing what our dream school would be like. After our first year of operating in 2015, we saw that having a strong cohesive community between the parents and staff at La Villa being a pillar of support and guidance for the children in our care. La Villa, which is the Spanish word for community or small town, is the essence of our school. It is said that it takes a village to raise a child. We strive to provide the highest level of care and compassion for the children while fostering a trust and support with our parents.
We invite you to visit us and see what La Villa Montessori School is all about. Thank you.