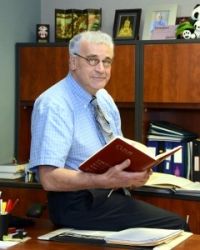 Paul Debenham, Principal
The Academy prides itself in providing students with a challenging and excellent high school educational program almost invariably leading to admission to one of the leading universities in Canada. The school also provides a well rounded education with much organized social, recreational and educational activity at the school and class level. As testimony to the quality of our students and our educational program students from the Academy have achieved and continue to achieve outstanding results in mathematics, computing and physics contest organized by the Canadian Mathematics Society and the University of Waterloo.
London International Academy has a first rate academic program, a fully qualified and very well educated teaching staff, bright and comfortable classrooms, continuous student counseling and advising, and a very effective and enthusiastic student support staff. All of these factors contribute to student enjoyment, motivation and adaption to North American culture which obviously includes the rapid acquisition of English. This is confirmed and illustrated by the tremendous disproportionate success of international students enrolled in the school in obtaining university and college places.
London, Ontario is a healthy, safe and pleasant small city which facilitates student involvement in the local community. Students who enroll in the Academy will be embarking on a pleasant but rigorous and stimulating educational journey culminating in acceptance by an excellent university.
Yours Sincerely,

Paul Debenham
Principal