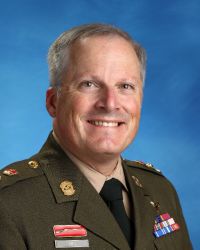 G. Scott Bowman, Founder & Headmaster
Robert Land Academy has become a vibrant learning and living community for boys from around the globe to achieve their goals and carry those into the next stage of life and beyond.
Since its inception in 1978, Robert Land Academy has undergone many physical changes, however the core values of Loyalty, Labour, Courage, Commitment and Honour have remained the constant upon which change and growth have been undertaken.
Our faculty and staff represent over 500 years of collective service at Robert Land Academy and remain the source of motivation and direction for our boys in all areas of life.
Life at the Academy remains as busy as always with myriad challenges and tasks. We preserve its routines for the sake of the best learning outcomes of our students and the greatest opportunities for personal growth. Our goal is to develop the whole boy and produce the best possible all-round citizen.
Respectfully Yours,
G. Scott Bowman
Lieutenant Colonel
Founder & Headmaster