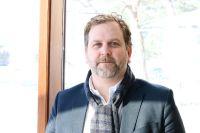 Aaron Sawatsky, Head of School
St. Jude's Academy is distinctive due to the weight we place on achieving fluency in language, and effectiveness in numeracy; we instil in all our students a firm practical, cultural and artistic framework, which reinforces all academic studies. Our students have confidence to express themselves effectively in both their public and private lives.
I encourage parents to come check out our school, and see the difference a small caring atmosphere can make.