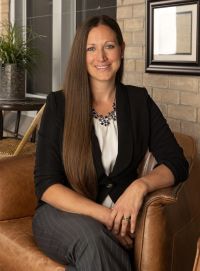 Dr. Leanne Foster, Head of School
Welcome from the Head of School
Trafalgar Castle School is a warm and welcoming community with a history of educating girls and young women since 1874. We are a proud part of Whitby, and welcome students from across Durham Region, the Greater Toronto Area, and around the world.
Our beautiful campus and historic setting is a hub of activity each and every day. World-class curriculum alongside a full complement of extra-curricular activities creates an environment that inspires and encourages growth. Arts, athletics, debating or robotics – wherever her curiosity leads, dedicated and caring faculty are there to ensure the opportunities for each and every girl are truly endless.
At Trafalgar Castle, we care deeply about how girls learn. The value of our all-girls' setting is present in our classrooms where students from grades 5 to 12 engage in meaningful and authentic learning, all the while growing in confidence, learning to lead with integrity, and making friendships that last a lifetime!
When our graduates leave us, they are confident young women who know, without question, their possibilities are endless.
I invite you to come for a visit. We look forward to providing you and your daughter with a tour of the school, and extending a warm Trafalgar welcome!
Dr. Leanne Foster, Ph.D.
Head of School