"We made a conscious choice not to be [International Baccalaureate (IB)]," says Kim Bartlett, director of teaching and learning, "because we wanted the custom build. We could make partnerships that enhance our work." There was also a conscious decision not to offer Advanced Placement (AP) courses. She adds, "I don't believe AP is the way the world is going anymore," noting that it is exam based, founded in the drill and kill perspective. She also notes, using Georgetown University in Washington, DC, as an example, that universities are trending toward a portfolio model, rather than ranking by marks alone.
The decision to create a program from the ground up was, nevertheless, a strikingly bold move, and one that began a new era in the life of the school. Pickering College's Global Leadership Program (GLP) shares some similarities with the IB: both encourage an international perspective; both are hands-on and academically rigorous; both are based on a core set of values; and both stress interpersonal communication and collaboration.
Unlike the IB, the GLP is a custom diploma program entirely unique to the school, with students working toward it in concert with the requirements necessary for completion of the Ontario Secondary School Diploma (OSSD). "When we designed it, the goal really was: 'what do we want our graduates to be able to do at the end?'" says Bartlett. "It was really about imagining the ideal graduate." As such, it was essentially reverse engineered from that goal, based on an understanding of the skills they would need to have to succeed, while also cognizant of the attributes and experience that universities would be looking for.
Cristy Drake is the co-curricular director and also played a role in developing the GLP. She says "it's really about developing global leaders in a world where we don't know what we're necessarily preparing them for. If we can make sure that they have the skills to face challenges when they leave school, that's what we want to make sure that they have. To be really innovative, to be critical thinkers, to have empathy … we have a program to help them achieve that. Through a variety of GLP days, off-timetable days, where students are fully immersed in their different programs. The GLP program builds upon itself through the years."
Bartlett oversees the scope and sequencing of the curriculum from JK through the senior years, something which itself is telling of the intentions of the program: it was created to be of a piece, with a consistent and detailed progression from the primary years on up. Bartlett feels that the custom build also allowed them to be agile and to build programs that reflect the specific aims of the school and the character of the student body. "We don't just buy a package for math; we built a math program," says Bartlett as an example. "It's a custom build. And I would say we use the best tools for the job."
That included locating the best practices and partnering with local institutions that reflect them, such as a notable partnership with the University of Toronto's I-Think, based at the Rotman School of Management, and participation in the annual Global Ideas Institute at the Munk School of Global Affairs and Public Policy. Pickering has been participating in the Institute for almost a decade, an experience that informed the development of the GLP. "When we wanted to develop our program, we thought this is a fantastic model. Because kids that have done that program have really been successful at U of T and other schools. So we worked with the director of Munk who looked at the work we're doing and said, yeah, this is what universities are looking for."
Bartlett jokes that she doesn't get much sleep, given the range of things that she's involved with at Pickering. Her enthusiasm for the work, and the school, is nevertheless infectious. When she gives examples, the source of that enthusiasm is evident. "I've got a student right now, he was sort of an early prototype" of the Capstone project, the culminating activity in the GLP. Students in Grade 11 write a research proposal based on a global issue of their choosing, suggesting solutions and implementation, which they ultimately pitch in front of a judging panel. "He was the first kid in that program, and [the first] to test some of the pieces. He crowd-sourced his solution, and right now he's at Northwestern University in engineering. He's worked on Spider Man equipment—you know, where you can climb walls and ceilings—and he just finished working with Elon Musk for the last fuselage" for the Mars mission.
That's a lot, but more than the specific details, what Bartlett sees is that the plan—the GLP, the partnerships, I-Think, the approach—is proving itself through tangible results. "These are the kind of kids that are now coming out of our programming. They've got the thinking skills, they've been trained in integrative thinking. We want all of our kids to have that kind of experience." Bartlett points to a photo on her bookshelf. "There's a picture of one of our Munk teams. That one built a cook stove for India. The first one blew up," she says, chuckling. "But I look at that little team and Belinda was from Tanzania, and she's now studying medicine at UBC. Alli is at U of T in medicine. Grant's in business. And June just got elected policy chair of the Young Liberals of Canada, and she's now at McGill."
The GLP culminates in a Capstone project where students are required not just to research and present on a global issue, but also to act on it, which is a distinguishing feature. One student described how her project was based on disaster relief, and her action was to partner with a local restaurant to host a fundraising dinner. "We worked together to plan a give-back dinner with 10% of each person's total bill [going] to Habitat for Humanity Mexico. My goal was $500 but we doubled that."
"In all of our programs, there is a strong focus on real-life experience," says Noeline Burk, head of arts. "In visual arts, it's about learning the techniques of painting and sculpture, but I also spend a great deal of time with the students on being able to critique work, and analyze work, and understand the process of informed judgment. As well, I think what a lot of these kids will need to be able to do is write formal proposals and be able to prove to someone that their idea is the best idea." In a recent Grade 12 class, students were asked to propose a piece of public sculpture. The students toured locations in Newmarket, developed sculpture concepts, built maquettes, created a budget based on real numbers, wrote a proposal, and then presented it to a panel.
"It's not just whether or not you're the best artist in the class; it's about being able to develop an idea and see it through to a successful ending," Burk explains. It's impressive, but also relates well to the goals and concepts of the GLP. Art, Burk believes, is about more than communication, and it should be used to develop communication and presentation skills.
Academic direction is overseen by operational directors for the JK to Grade 5 and the Grades 6 to 12 programs. Throughout is an overt attention to interdisciplinary, project-based instruction. Says teacher Alex Au Yong, "it's rooted in all these great traditions, and at the same time the school is very progressive in what we're trying to do." Class sizes are relatively small, and students are known. "You can't hide at the back of the classroom," says Au Yong. "For example, the students coming up for next year, I already know them in different ways."
---
Academic environment
"I think it gives you a broader perspective," says a parent who is himself an alumnus. "I remember my daughter talking to me about writing a business plan, and I was just blown away. That's not something I learned until post-secondary."
On entering the school, students become part of a shared culture of curiosity, while also being reminded that everyone brings something unique to it. One student told us that "everyone has that one strength, and some weaknesses. Someone can be really good at French, but maybe not so great in other subjects." They seem to appreciate that latitude, and don't feel the need to be good at all things. As such, there isn't an overt sense of competition among students for marks or athletic performance, something that was confirmed independently by a number of students from across the senior grades. The staff promotes that approach subtly, though the culture of the school does as well, as underscored each day within the meeting hall.
"It's more about personal growth," says Janet Downer, director of the Middle and Senior Schools, of the academic culture. "[It's about] seeing that personal growth over the years, and for students to accept challenges and to take risks they would never have thought they would do. And to learn something about themselves through that. The grades are great—they will help you get into university—but there's a whole package. When you have so many opportunities available to you, and you take advantage of that—whether that's the trips students go on, the social justice activities, the leadership—to me, that is thriving. To try new things and to participate."
A Grade 8 student told us that "even though there is a lot of similarities … in every school you go to, everybody is unique in their own way. At our school everybody is unique in their own way, but there's always other people that are unique with you." Which is lovely, both in the sentiment, his perceptions of it, and the way that he expresses it. Certainly, students seemed to be in agreement that there was latitude to be your own person, while also feeling connected and part of a whole. (He also said that "there's not anybody who's nerdy in our school." Also good to know.)
Students and alumni commented that faculty make a priority of being available. "There were always teachers there," says alumna Nicole Wolscht. "No matter what was happening, whether it was a sporting event and they're there as coach, or in the classroom … my fiancé struggled in math and a teacher would stay with him every day for an hour." She feels that kind of attention and support was the norm rather than the exception. "My teachers were there 100%."
The radio station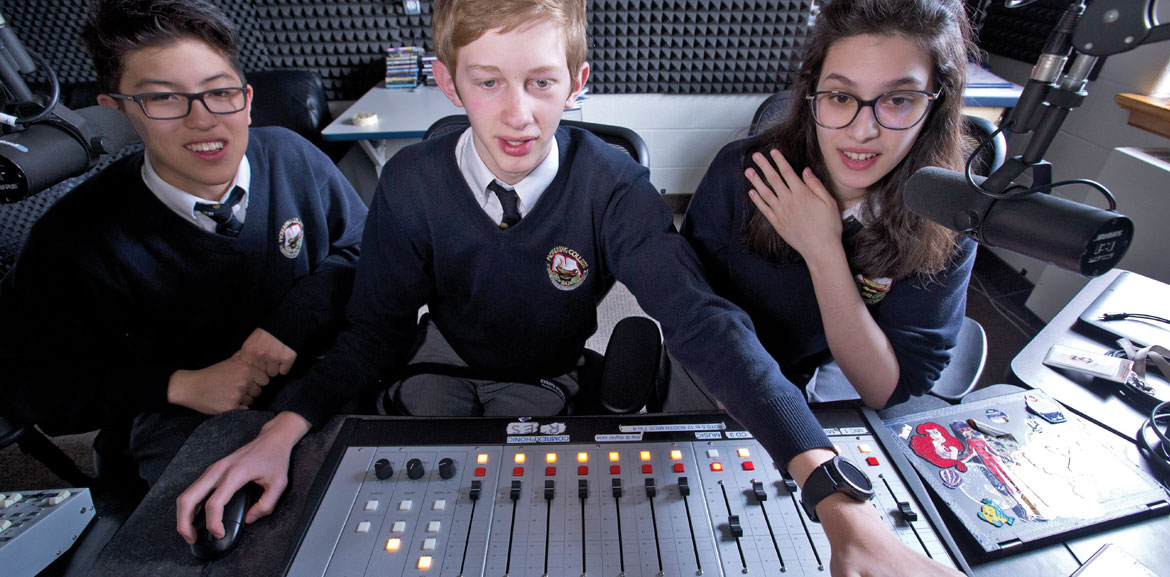 Noeline Burk, head of arts, oversees the operation of the only JK-Grade 12 radio station in Canada. Gareth Sturrup is the station manager who runs the day-to-day radio programming and coordinates with the school's students and community volunteers. At Pickering, 102.7 CHOP FM was created by the generosity of a parent at the school with experience in radio, Jim Waters, a past owner of CHUM FM.
The station began broadcasting in 2007, initially intended as little more than a special interest club. "Initially I think Jim's idea was just to get the kids on the radio, but the school has taken the mindset that, yes, get the kids on the radio, but let's make it curriculum enhancing. And I think we're doing an amazing job of that." And they are. The day we visited, a number of Grade 5 students were getting ready to interview a politician from Toronto, one of a series of interviews that are far deeper and more informative than you might think.
The station is applying to the CRTC to become a community station. At the moment it's only licensed as a campus radio station. The designation will bring an enhanced signal strength as well as an enhanced profile. Even without that designation, the station operates just as a professional one would. The kids do morning and evening drive programs, lunchtime shows. "We've got one student in Grade 12 who does a heavy metal show and it's incredibly well received," Burk says. Some staff and community members also participate on and off air, a volunteering opportunity that the school intends to continue growing.
The concept may seem out of date, though the resources are deceptively useful. One of the Grade 12 students we met was on his way to record a podcast of his Capstone project, presenting the results of his work. Kids are clearly excited to be on air and to use the studio, while the school is keen to ensure that it supports and augments the curriculum. And, from all indicators, it's doing that in spades.
---
Junior School
Instruction in the primary grades is inflected with the Reggio Emilia approach: student-centred, constructivist, and building out from the curiosities that students bring with them into the classroom. The Junior School program culminates in Grade 5 with a public speech advocating for support on a topic of personal significance, a first milestone as students progress through the GLP. "That is one thing that I think we've done very, very well," says Di Mambro. "We have kids four and five years old that can stand in front of a full school assembly, parents and everything, and speak better than some of the senior students that are new to the school and haven't had this training. … Our kids are super speakers."
That's part of a clear focus on the basics—the program is designed nicely, with an emphasis on the core competencies of writing, speaking, and numeracy. Curriculum development gives explicit attention to eight key areas: leadership, global awareness, design and building, public speaking, empathy and perspective, environmental stewardship, friendship and community, and literacy and language. It's a lot of moving parts, to be sure, but all have been designed to fulfill the curricular expectations while building the groundwork for what students will be doing in the middle and high school grades. "It was developed from the bottom up," says Di Mambro. "You're always looking for ways to improve your program," and she notes that the scope and sequencing of the junior grades was informed, first and foremost, by an understanding of the skills and knowledge they'll need to be successful in the middle years.
It can sound like a lot—and no doubt it is—but Di Mambro is also clearly aware that, while the ideas may be very big, these are, after all, little kids. The challenge for her and the faculty is to prepare the groundwork, to get them thinking of the big ideas in ways that are creative, inviting, and lasting. Environmental stewardship, for example, is taught through growing an awareness of the waste generated each day in the classroom. "Grade 1 [students] learn that they are responsible for their own waste, and it's a year-long project," says Di Mambro. "They each have their own garbage bin they have to put their stuff in."
"For Grade 2, they have a vermi worm composter," she says with a chuckle. She admits that the first year didn't, um, go so well. "It was actually quite a disaster, but that's a great example" she's quick to add, with regard to how the project was handled, and the experience it granted the students. "Thankfully, that Grade 2 teacher is a very strong science person," says Di Mambro. "It took two weeks of real learning. Those kids did the research they needed to do, and it was amazing to watch … They found that they had given the worms too much fruit. They had been overfed. But they learned what they did wrong, and they corrected it. They learned how to fix their problem." It's wall-to-wall charming—we saw the composter, and the worms seemed happy, so far as we could tell.
"We want kids doing more critical thinking and problem solving," she says, "so that's the main reason for our inquiry-based learning and our project-based learning. We've done a lot of professional development for our teachers on that." She's demonstrably adept in her role developing the programs, though her passion also resides with the kids, the things they're doing in the classrooms, and the interactions they're having with their peers, mentors, and instructors. Which, frankly, is as good a sign of a school's health as you can ever hope to find.
There's a strong relationship with the upper grades, including cross-generational instruction, getting the Grade 11 students into the junior classrooms to speak, lead discussions, and teach a few lessons. "We did a little bit of that when I first came here," says Di Mambro, "and now it's almost daily." Those are the kinds of things—the worms, the Grade 11 students in the classroom, the outdoor ed trips, the Lego robotics—that give spark to the delivery of the curriculum. Likewise, she is keen to ensure that all the teachers are leading from their passions, the areas that they feel particularly confident within.
---
Co-curriculars
Co-curriculars are mandatory until Grade 12. In Grades 9 and 10, the year is divided into four terms, and students are required to be engaged in something every term. It could be a solo activity, such as rock climbing, equestrian or debate, or participating in team sports, including the competitive teams. By Grade 11, students are able to take a term off, and often students will take the spring term off in order to maximize their time around the ISPs and exams. In Grade 12, students are able to take two terms off if they wish.
While physical activity is encouraged, co-curriculars include arts activities. While there is a core offering that remains, there is some latitude for both students and faculty to initiate co-curricular activities. A recent example is Anime, a program created at the request of a group of students. All offerings are organized around the overall goals of the school curriculum and the GLP. In some cases, the instructional links may not be entirely clear on the face of it—there is a cooking session, for example—though faculty are keen to bring leadership, creativity, interaction, and resiliency outcomes to the fore.