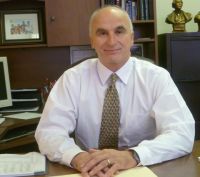 Jean P. Mantha, Headmaster
Bonjour
MCA was founded in 1990 to offer parents in the Ottawa area the option of a demanding academic program that would prepare their child in both the French and English languages. The program is designed to teach the students skills that will help them succeed in school and in life.
Being a small school is a big advantage when you want to give quality instruction and teach skills that will serve the students for life. We present them academic and physical challenges that will encourage them to leave their comfort zone and truly begin learning.
Our program has evolved to meet the demands of our Canadian society but our mission to teach the students how to learn has never changed. The need to teach methods to improve their organizational skills and become responsible students is even more important today than it was when I founded the program in 1990.
We specialize in working with students at the junior high school level. I believe that this is an age where we can influence the child`s academic and life skills the most to prepare them for high school, university and beyond. Our students have always worked hard and played hard with a big smile on their faces. Some things should never change!
Merci.
Jean P. Mantha