A comprehensive guide to the SSATs
Find a list of schools
The SSAT (Secondary School Admissions Test) is an admissions test required by a number of private and independent schools across Canada. It's one important step on the path to an independent school education.
While SSAT results are taken seriously, they're only one part of the admissions process. You should try, then, not to put too much emphasis on them.
In this guide, we answer several important questions about the SSATs. We discuss the format of the test, how to prepare for it, and offer tips for success. To view a list of schools requiring the SSAT, click here.
Why do some schools require students to take the SSAT?
A number of schools across Canada require applicants to take the SSAT. The aim of the test is to assess a student's verbal, quantitative, reading, and writing skills. It can sometimes be a good indicator of potential academic success.
That said, SSAT tests are not meant to measure all traits that can contribute to academic success. For instance, the test doesn't directly assess motivation, persistence, or creativity.
Who designs the SSAT?
The test is developed by committees made up of education experts and independent or private school teachers. The questions are rigorously reviewed to make sure they're the appropriate degree of difficulty.
How reliable is the test?
According to SSAT.org, very. The verbal and quantitative sections of the SSAT have a reliability score of higher than .90. The reading section has a slightly lower score. These scores are considered above average by widely recognized educational standards.
What makes the SSAT a norm-referenced test?
The SSAT is a norm-referenced test. This means it interprets each individual score in relation to the distribution of scores for a comparison group, referred to as the "norm group." The SSAT norm groups consist of all scores from the same grade and gender who have taken the test for the first time over the past three years.
The SSAT reports percentile ranks, which are calculated relative to the performance of the norm group. It's important to remember that the SSAT norm group is a highly competitive group.
Among the flurry of private school application requirements, the SSAT test is one of the most nerve-wracking. Luckily, it's never too soon to begin preparing for this standardized aptitude test.
Here are some tips to ensure that your child is as prepared as he or she can be.
Tips for SSAT Success
Timing is key
Keep in mind that many schools like to receive SSAT scores no later than the February before the school year begins in September. Make sure you fully understand the requirements and essential deadline dates for your preferred school(s), since these vary between schools.
Once you know you will need to take the SSAT test, ensure you do the following:
Select a test site and location (Alberta and British Columbia dates and locations can be found here; Ontario dates and locations can be found here.)
Obtain necessary documentation
Select score recipients (who will receive the test results)
Register for the test
Print your SSAT admission ticket and manage your SSAT account
Prepare for the test (more on this below)
Review your score report (after you've written the test)
Order a prep test
Help is only a click away. The Secondary School Admission Test Board publishes a book of full-length practice tests, available online.
It contains:
Full-length practice tests (two upper level, two lower)
Scoring instructions and explanations
Descriptions and exercises for each type of question
Advice for using time efficiently
The guide currently costs $30. Once you've received the test, go through it. It will give you a strong indication of what to expect from the SSAT. You should be able to breathe a sigh of relief at this point.
Prep courses
Some organizations offer prep courses for the SSAT, which may help prepare your child. It's important to note, though, that prep courses are not endorsed by the SSAT's governing body.
Work together with your child
Parents can help by going over test-taking strategies with children and helping them practice. After giving your child a timed test, go over the wrong answers with your child, to help him or her figure out how to do better when taking the actual SSAT.
Get familiar with the test format
Section
Testing time
Questions
Skills tested
Verbal
30 minutes (one section)
30 synonym questions
Vocabulary

30 analogy questions

Vocabulary and verbal reasoning

Quantitative

60 minutes (two 30-minute sections)

50 multiple-choice questions

Math reasoning and computation

Reading

40 minutes (one section)

7 reading passages and 40 questions

Reading comprehension

Writing Sample

25 minutes (one section)

1 essay prompt

Writing
Verbal
30 synonym, 30 analogy questions
Students are given 30 minutes to complete this section
Quantitative (math)
Two sections, 25 questions each
Students do math computations, as they would in school
Students are given 30 minutes to complete this section
Reading comprehension
40 questions based on seven reading passages
Questions measure your ability to understand what you read
Students are given 40 minutes to complete this section
Writing sample
Support or argue the topic statement (presented)
Use examples from personal experience, current events, history, or literature
Students are given 25 minutes to complete this section
Sample SSAT questions
Below, are some sample SSAT questions for each section: verbal, quantitative, and reading. (Source: the Study Point, a test preparation and tutoring institute.)
Verbal
Synonym questions; Students must select the answer that's closest in meaning to the word given in the question.
Analogy questions: These questions test a student's ability to determine relationships between words. Students must select the answer that best completes the meaning of the sentence.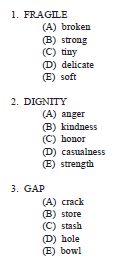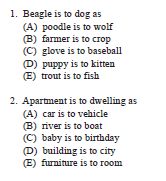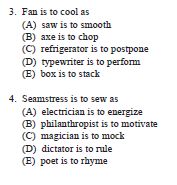 Answers: 1. (D), 2. (C), 3. (A); 1. (E), 2. (A), 3. (B), 4. (D)
Math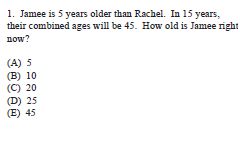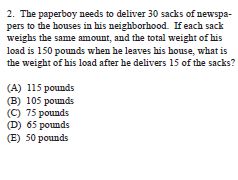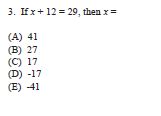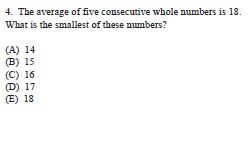 Answers: 1. (B), 2. (C), 3. (C), 4. (C)
Reading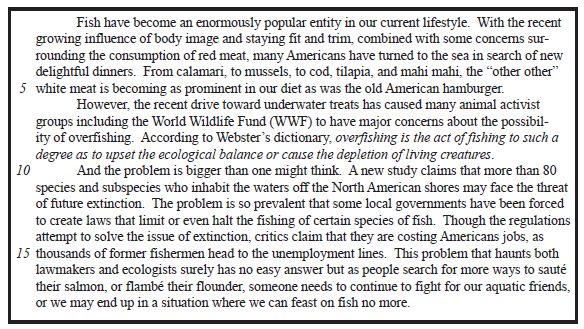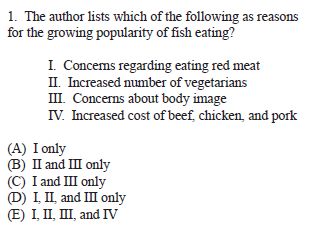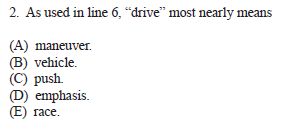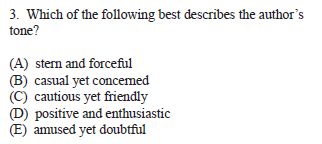 Answers: 1. (C), 2. (C), 3. (B)
Levels of the SSAT
There are three SSAT levels:
Elementary Level SSAT: For children currently in 3rd and 4th grades who are applying for admission to 4th and 5th grades.
Middle Level SSAT: For children currently in grades 5-7 who seek admission to grades 6 through 8.
Upper Level SSAT: For children currently in grades 8-11 who are applying for admission to grades 9 through PG (Post Graduate).
The day of the test
On test day, don't forget:
Your SSAT admission ticket
Sharpened No. 2 pencils
A good eraser
A positive attitude
Standardized test-taking can be very stressful. It's important to remember the test is just one element of an independent school's admissions criteria. Many other factors will affect a school's decison.