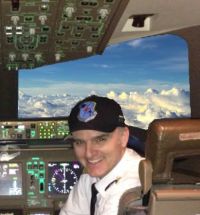 Aaron Murphy, Director of the AIC and Flight Simulator Operations Training
Commercial Pilot Licence, B777 flight simulator instructor at uFly Simulator.
737 MAX ACCIDENTS NEWS COVERAGE:

I would like to extend my deepest condolences and apologies to the friends and families and the victims of the recent Lion Air and Ethiopian Airlines accidents. My participation in the recent news stories that covered the accidents may have been with my best intentions at heart but it is painfully clear to me now they may have been sadly misguided and very naive. Just to be very clear, I do not now and never have flown for Air Canada, and I have never flown and do not have any formal training on the 737 NG or 737 MAX jets. I have a Canadian Commercial Pilot licence with a Multi-engine rating and a long expired Class 4 Flight Instructor Rating. I am a part-time flight simulator instructor on B777 and B737NG replica simulators.
The information I used in my presentations is from the FAA's Emergency Airworthiness Directive report from the Lion Air accident. (AD#2018-23-51)

My intention was to try to educate the general public about the known details of the accidents in an attempt to help restore confidence in the 737 MAX aircraft, and attempt to help reduce the grounding time and the resulting enormous negative travelling and financial impact this grounding will produce.

It is absolutely horrible that so many people perished in these two accidents and it is the very deep remorse I felt then and still feel that compelled me to say something to try to somehow make everything better; make everything ok. I fear instead that I have only made a terrible situation even worse for those close to and directly affected by the accidents, and the resulting grounding of the MAX. The news stations approached me and I felt an obligation as a flight instructor to take the opportunity to try to bring some light to this very dark situation. The flight crews of both aircraft should not carry the blame, and I never intended to say they should. I am certain the crews did their best when they were faced with these very difficult circumstances that would challenge any professional pilot.

Airplane accidents are always caused by a chain of events and I can say from years of research and instructing in aviation that the chain always has Human Factors at the root of each link. Humans make mistakes and none of us is immune to this unfortunate fact. It is a very human reaction to try to fix the blame. Only by fixing the problem can we move forward and learn from our mistakes. My simulation sequences seen on the news do not tell the whole story and it appeared that it was very easy to recover the aircraft from the very erratic flight paths these crews were faced with. Again, I apologize for not correctly duplicating the actual flight conditions, which were without a doubt much more difficult and frightening than I demonstrated.

An important fact I have been reminded of here is that it is very unprofessional and painful to others to comment on something before all the facts are known, no matter how strongly you feel about the situation, or how positive your intentions.

The only appropriate thing to say is "I am so sorry for your loss".
Hello and thank-you for visiting the Aviation Immersion C.A.M.P. profile on the ourkids.net!
I have had some of my most incredible life experiences in airplanes: from the lofty highs of euphoria to the stone-cold, iron butterflies-in-my-gut of absolute terror, but mostly everything in between. Each and every flight is a testament to human ingenuity, perseverance and good old fashioned courage. On December 17, 1903, Wilbur and Orville Wright were the first to crack the aerodynamic and engineering codes for the first powered flight of the Wright Flyer at about 48 KPH, and just a mere 44 years later on October 14, 1947, Captain Charles Elwood Yeager piloted his Bell X-1 named "Glamorous Glennis" to the eyeball watering speed of Mach 1.07. (Elwood. Love that name!) Yeager would go into the history books with the incredible distinction of being the first human to break the sound barrier. Since then, humanity has been to the moon a few times, had many super-sonic joy rides in the majestic Concorde at Mach 2+ and went an absolutely eyeball flattening Mach 6.7 in the North American X-15! Yikes! Now we even have folks living on an extra-terrestrial outpost called the International Space Station, orbiting the earth at approximately Mach 22! Ludicrous speed indeed! The ISS is the first of several inter-planetary stepping stones to our next destination: Mars.
My vision for the AIC is to give students of all ages a place where they can explore the incredibly challenging, demanding and fascinating world of aviation and all of its supporting subjects. Who knows? Some AIC participants just might become airline pilots and maybe, just maybe, a few will go to Mars.
It was a sunny and warm 12th of September in 1962 before a crowd of 40,000 at the Rice University Football Stadium, when John F Kennedy spoke some of his most powerful and inspiring words of his presidency in his famous speech to persuade America to support the Apollo program and land a man on the moon:
"...We choose to go to the Moon...we choose to go to the Moon in this decade and do the other things, not because they are easy, but because they are hard; because that goal will serve to organize and measure the best of our energies and skills, because that challenge is one that we are willing to accept, one we are unwilling to postpone, and one we intend to win, and the others, too..."
We all need to challenge ourselves. Constantly.
"That's one small step for man, one giant leap for Mankind." (Neil Armstrong's famous televised radio transmission on July 20, 1969 as he stepped down off the lunar lander to be the first man to walk on the moon.)
Mission accomplished. Next!