Explore hardwood forests, open meadows and wetlands teeming with wildlife. Experience outdoor cookouts, lasting friendships and campfire fun. Meet live animals, play fun games, learn new skills. Select from a wide variety of themed weeks including: Survival Camp - Spy Camp - Art in Nature Camp - Leadership Adventure Camp - Mud Madness Camp - and more!
---
The Our Kids review of Kortright Summer Nature Day Camp
The Kortright Centre is named after author and conservationist Francis H. Kortright, an early proponent of environmental awareness, stewardship, and sustainability. Those are some very big, important ideas, and since it opened in 1982, the centre has dedicated itself to addressing them. Administration has also dedicated itself to bringing those concepts to a wider audience, and doing it in creative, age-appropriate ways. The summer programs are perhaps the prime example of that—they are based in all the big ideas, but kids see them more as fun than learning, which is exactly as it should be. Mud Madness sessions, for example, don't announce themselves unduly as educative, and the same is true of the spy camp session. Nevertheless, in those as in all the others, kids come away having had a lasting, memorable, and fun engagement with the natural world, having also built an appreciation of nature and our place within it. It's impressive, to be sure, and there is nothing quite like the Kortright Centre. Of less importance to kids is the infrastructure and the architecture, which is delightful in a way all its own. Staff are truly experts, engaged in their own ongoing work at the centre, including offering exceptional instruction and mentorship.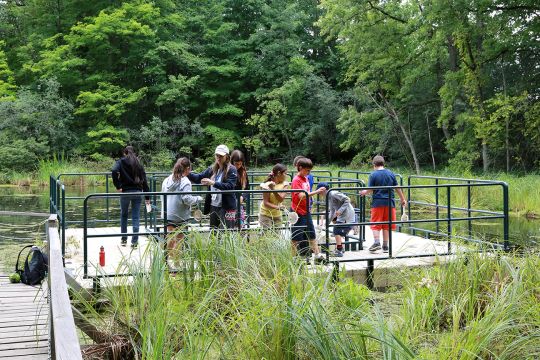 Camp Address
9550 Pine Valley Drive, Woodbridge, Ontario, Canada