KINDLE LIFELONG FRIENDSHIPS through the magic of the Camp Muskoka experience! Boost your camper's self-confidence in a fun, safe & supportive community. Camp Muskoka offers a 4:1 camper / counsellor ratio, delicious food, & comfy modern lodging with air conditioning & washrooms. With a wide variety of more than 50 activities, campers choose their own adventure every day! Activities include: canopy aerial park with a 900' zip-line, paintball, natural rock climbing, biking, recording studio, on-site horseback riding, archery, water trampoline, Flyboarding, & more! Camp sessions range from 1-8 weeks & 2 week Leadership Camps. Camp Muskoka, Where friendships begin and FUN never ends!
---
The Our Kids review of Camp Muskoka
Fun is a priority at Camp Muskoka, though values are as well. Overnight, coed sessions in the heart of cottage country as well as the Canadian shield, the programming is active and varied. A low camper to staff ratio is a draw, as is the breadth of programming. Campers choose daily from a wide array of activities, from the strikingly modern (flyboarding, paintball) to the very core of the camp tradition, including guitar, art, and camp craft. Camp-wide events are a chance to get loud, though the cabin groups and specialty activities allow campers a chance to exercise their quieter sides. The younger campers stay in a lodge, which is unique in the world of camping, designed to offer a sense of community. The older campers stay in cottages that sparkle with all the mod cons located within them. In all of that, the quality of the offering is what rightly catches parents' and campers' attention alike. From registration, to staffing, to food service, the camp is expertly and efficiently run.
---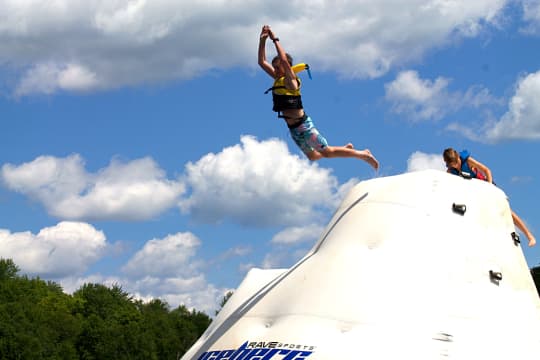 Camp Address
1745 Fraserburg Road, Bracebridge, Ontario, P1L 1X3, Canada