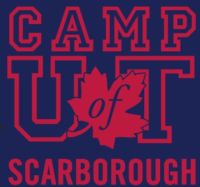 Pixel and Wiki, Camp Directors
Dear Campers and Teens,
Welcome back to another summer at Camp U of T Scarborough!
The camp season is quickly approaching and we are looking forward to another fun-filled summer. We are both eager to see familiar faces and can't wait to meet all of you who are new to camp this year. The countdown for camp to begin is on, and we hope you are just as excited for what's going to be another fantastic experience at camp.
Many of last year's Camp Counsellors are returning, including Hallows, Bumble, Young Spice, Insta, Nikon, Alpha and Improv. In addition, we have several new staff that you will get to meet. They have all been working hard to plan fun games and activities for you to enjoy. We can't wait for more rounds of Capture-the-Flag, Squirt, Ninja, Predator and Prey, Friday Special Events, the Talent Show and Pudding Dunk!
Get your thinking caps on to learn new games and sports in Recreation Camp, crazy experiments in Kid's Science, cool programs in Computers, be an acting superstar in Drama, bring out your creative side in Arts and Crafts and get energetic in Dance-Fit. We also have a very special Indigenous Games Week from July 24th-28th.
Our Leaders-in-Training (LIT) Program is back again this year; we are so excited to see those that are ready to develop the skills needed to become strong leaders. The 2-week LIT certificate programs are open to teens 13-16yrs. Youth that participate in these programs will attend a variety of leadership workshops, have the opportunity to job shadow with Camp Counsellors, learn to build their own cover letter and resume and put their leadership skills to the test by
occasionally leading a program or special event for campers aged 6-12. During each two week program, teens will enjoy time at the Toronto Pan Am Sports Centre pool, an overnight camping at the Toronto Zoo, conquer rock-climbing at Joe Rockhead's and practice their equestrian skills at Ajax Riding Academy.
We look forward to learn and laugh alongside you and build new lasting memories this summer at Camp U of T Scarborough!
Enjoy the rest of the school year and see you soon,
Richelle Pellew (aka Pixel) Camp Director
Mark Lentz (aka Wiki) Assistant Camp Director