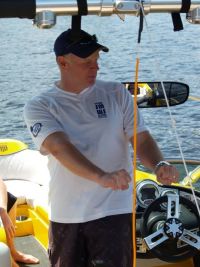 Craig Bowker, Head Coach - Owner
When choosing Ski-Mazing Watersports School for yourself or your children, you are choosing all of the best attributes that a person should expect - from professionalism to value. Above all else, you are choosing experience, and experience speaks volumes when it come to your safety, and the accelerated progress and achievement you will make when learning from an experienced coach. At SMWS, all of our coaches are adults, with many years of boat driving and water sports coaching experience, that have children of their own. They have the patience and understanding to relate to all ages and abilities, and have your success and safety in mind.
I grew up as a cottage brat and spent the summers at the cottage with my family. I learned to water ski at the age of five and taught my own children to ski at the age of three. I have trained with world champion skiers, wakeboarders and barefooters and competed in tournaments from an early age. My lifelong dream was to operate a ski school and in 2003 I opened Ski-Mazing Watersports School. We operated the school at Wigamog Inn Resort and Bonnie View Inn to provide water sports services for guests and local visitors. The school grew in to a full service watersports company with kids camp lesson programs, equipment retail, jet ski rentals, pontoon boat cruises, hydroflight rides, parasailiing, and weekly ski shows. Throughout the growth of the school, I volunteered as the VP for Ski Schools, Clubs and Camps for Water Ski Wakeboard Ontario for many years, and served as an Examiner at Water Ski Wakeboard Canada's Instructor's Course. Not long after the school began, I enrolled my entire team in the SkiAbility Facilitators course to be able to offer water sports lessons to physically and mentally challenged participants.
I continued to contribute to the water sports industry by serving on the development committee for the Rip & Ride program founded by Water Ski Wakeboard and the Long Term Athlete Development Program. I was also selected to be the spokesperson for the national launch video production for Rip & Ride. With a passion for water sports and excellence, I have been flattered by the trust that parents have put in me to care for and coach their children. My team prides themselves on being able to deliver memorable experiences, and we are happy to see people come back and play with us again!
As you may have already concluded, I have a passion for water sports that is relentless. I love helping people and inspiring children to try new things and I enjoy bringing making new experiences available to our clientele. Your children will love our Kids Kamp program...as many of them say "that was the best camp I ever went to Mom !"
I look forward to sharing some "Skills and Thrills" with your family and friends this summer!
Craig