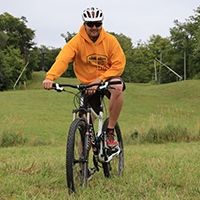 AJ Leeming, Manager, Summer Camps
Ways of the Woods (WOW) brings some of the most outstanding summer camp offerings this region has to offer. Operating within Conservation Halton's beautiful parks, Ways of the Woods lets your camper celebrate what it means to be a kid!
Our camps are outdoor, active, and educational. Campers explore, discover, learn, and play in the great outdoors. Opportunities abound for campers to meet friends, get dirty, hold a bird of prey, ride fantastic bike trails, learn about aquatic creatures, and more.
Ways of the Woods offers what parents look for in a camp, and all the fun stuff that campers love. Our experienced counsellors know how to relate to campers, and how to provide the supervision that parents expect.
Our promise to you is a safe, fun, educational, and unique camp experience that will have your camper excited to be a kid!