Connect with a target family audience
---
Our Kids is Poland's bilingual school-choice platform used by 80,000 parents every month.
Our comprehensive website, annual print magazine and Private School Expo event offer the ideal opportunity for schools and businesses to connect with a highly sought after segment of families, those who are actively thinking about investing in a private school education for their children.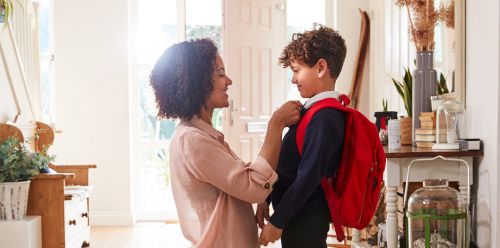 Be found by the right families at the very moment they're searching for a school or preschool. Learn how to claim your school profile, engage with interested families, and tell your story on Poland's #1 school-choice platform.
SCHOOLS CLICK HERE
FOR BUSINESSES
As the most trusted source of information about private schools, Our Kids offers businesses a unique opportunity to concentrate advertising and marketing campaigns on a narrow target group of families - those with school aged children and an income allowing them to consider private school education.
Our bilingual platform provides direct access to both Polish and English speaking families, and campaigns can target local families or moving from abroad.
Website: OurKids.net/pl-en is visited on-average by 80,000 families each month, families who value education and youth development, and are investing in the success of their children.
Magazine: Our Kids Guide to Private Schools in Poland is the premier bilingual print magazine showcasing the best schools in the country. With 25,000 copies and a focused distribution network targeting high-income families, this annual guide provides the ideal environment to position your brand, and to keep it top of mind over the course of the year.
Expo: The Our Kids Private School Expo is a unique event drawing more than 1,000 parents and students out to meet with local private and independent schools.
Don't wait, call us +48 607397887 now, or request more information here and let's build a strong campaign together.
Our Kids: Trusted by 1000+ businesses around the world
RBC
"RBC got great results from our fall campaign. The niche audience makes it easy to target our messaging. We'll definitely look to continue next year."
—Victoria Bitove, Communications Strategist, MacLaren M2Universal

---

Thames British School Warsaw
"Our Kids have been a much needed entity here... Not only do they act as an exhaustive guide to the many varieties of private schooling, but they also provide invaluable advice to schools looking to enrol students…. The people behind OurKids in Poland are also well-informed in the educational arena and have acted as an excellent 'third-party' by helping parents reach out to the right schools that match their individual interests, this can only mean they have gained the trust of organisations and parents and will surely succeed in their endeavours in the future."
—Gary Lycett, Head of Admissions, Thames British School Warsaw

West Island College
"The Our Kids team continues to do an amazing job at serving their clients, providing invaluable resources and continuously evolving to meet the demands of our rapidly changing environment. Their organization is a model for creativity, innovation, and evolution."
—Michel Lafrance, Headmaster, West Island College

---

British International School of the University of Lodz
"For us, it is important to be able to share information about our school with the world. We were formed to help families immigrating from abroad above all, and this is how we see our mission. It is very important that we are visible to families internationally and that people who are wondering if it is worth moving to Łódź, know that there is a good school available at this level."
—Magdalena Matz, Chairman of the Board, British International School of the University of Lodz

The Sterling Hall School
"We choose Our Kids because it reaches families in many different ways -- online, mobile, digital and print. Our Kids has long been a reliable resource for parents seeking information on independent school education, and we are confident that The Sterling Hall School is well-represented in Our Kids."
—Christine Johnston, Associate Director of Communications, The Sterling Hall School

---

Acura
I am so happy… the MDX looks like it fits right in perfectly…We are tracking results and seeing good metrics.
—Gary Lycett, Head of Admissions, Thames British School Warsaw

Sparkplug Marketing & Communications
"We have recommended Our Kids to both clients who are in the acquisition mode and are actively looking for new students/customers as well as to clients that have a very solid population in place. By advertising in Our Kids, they can establish a brand's presence and leadership based on its own unique proposition and use the Our Kids environment to educate and shape parents' perceptions of this brand – now and over the long-term."

In addition, they have a commitment to identifying new digital opportunities and developing other leading-edge initiatives that help advertisers/agencies achieve positive results.
—Gayle Akler, President of Sparkplug Marketing & Communications
PARTNERS IN YOUR SUCCESS
Our dedicated team will work with you to make sure your account and campaign is set up to reach your goals. We've been successful for more than 20 years because we're responsive to our client base and continually open to new opportunities. Let's work together.
Contact us today: Email us • +48 607397887
---
Disclaimer: We cannot guarantee the complete accuracy of the school information on this site. Please contact schools directly to confirm all details.